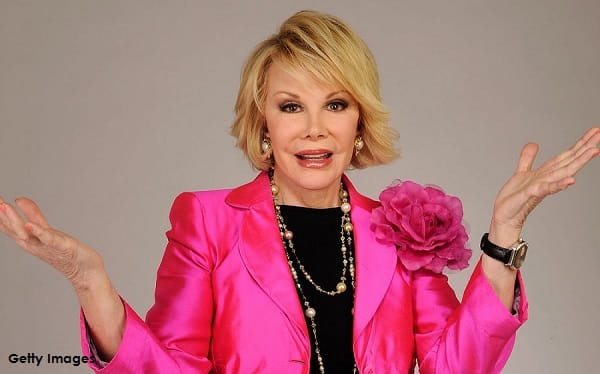 Joan Rivers nació el 8 de junio de 1933 en la ciudad de Nueva York. Rivers fue una presentadora de televisión, novelista, humorista, directora y actriz estadounidense. Murió el 04 de septiembre de 2014, a la edad de 81 años.
El jueves 28 de agosto, se encendieron nuevamente las alarmas de Hollywood, cuando en las redes sociales corrió el rumor de que la legendaria comediante y animadora de televisión había sufrido un severo para respiratorio en medio de una cirugía menor de garganta.
La celebridad cuyo verdadero nombre era Joan Alexandra Molinsky, fue conocida, respetada y querida por su estilo ácido. Sus primeras incursiones televisivas fueron en The Tonight Show, en 1965; entre las realizadas en esta década podemos recordar:
The Intern (2000), Whispers: An Elephant's Tale (2000 (voz), The Making and Meaning of 'We Are Family' (2002) (documental), Hip! Edgy! Quirky! (2002), Joan Rivers" Nip/tuck (2004) (Serie de TV), Shrek 2 (2004) (voz), First Daughter (2004), The Last Guy on Earth (2007), Fashion Police (2010-presente), Joan & Melissa: Joan Knows Best (2011-2013) y The Good Dinosaur (2014).
El anuncio de su muerte ha desatado una ola de tributos en todo el mundo. Su hija, Melissa Joan, agradeció a todos por el gran amor y el apoyo que le brindaron a su madre.
La polémica en torno a la muerte de Joan Rivers
A solo una semana de su muerte, empezó a circular versiones de que Rivers habría sido anestesiada con propofol, la misma droga que causó la muerte de Michael Jackson en 2009. No obstante, el Departamento de Salud de Nueva York se encuentra investigando a la clínica Yorkville Endoscopy para determinar si en verdad hubo negligencia médica de su parte. Estas versiones surgieron luego de que los médicos forenses quedarán con dudas tras la autopsia de la artista. Ahora se esperan los resultados de los exámenes toxicológicos para determinar si procede una demanda por parte de la familia de Rivers. Mientras tanto, se están tomando las declaraciones a los profesionales médicos involucrados en la fatídica intervención de la querida Joan Rivers.
TE PUEDE INTERESAR: