It's the first day of December, so I thought I'd make a Christmas best and worst list. Because people like lists, and because I am people.
Best Traditional Christmas Carol:
O Little Town of Bethlehem
Beautiful melody and lovely lyrics without any dumb "sweet baby Jesus doesn't even cry" ideas (see below). Second place goes to "O Holy Night," for being in 3/4 time and for the emotionally resonant transition to the "Fall on your knees" chorus.
Worst Traditional Christmas Carol:
Away in a Manger
Has to be the sappiest Jesus song ever. "Little Lord Jesus no crying he makes"? Please. "Look down from the sky"? Probably not, unless Jesus is ballooning. Bad theology all around.
Best New Christmas Song:
Babe in the Straw
I prefer the original version by Derri Daugherty, Steve Hindalong, and Riki Michele from the Noel album (as opposed to subsequent versions by Leigh Nash or Caedmon's Call). Sidenote: of all the songs in the world, I have performed/sung/played this one the most in front of people.
Worst New(ish) Christmas Song:
Rockin' Around the Christmas Tree
This isn't that new — it was first written and recorded by Brenda Lee in 1958. But why has this become the go-to upbeat song on Christmas albums? Is it because it has "rockin'" in the title? So annoying. But it ends up on pretty much every Christmas album. Thanks, Brenda Lee.
Best Nativity Set:
Playmobil Nativity Set
My family has this (that's ours in the photo above). I loved Playmobil stuff when I was a kid, even though they weren't as poseable as Star Wars figurines. My kids still play with this nativity scene, by the way, and there have been times when Darth Vader has shown up lurking behind the Wise Men. It all turns out OK, though, because Yoda can hide behind the manger.
Worst Nativity Set:
Any Nativity Made of Snowmen
Look, I understand that snowmen are cute and seasonal and stuff. But a carrot-nosed Baby Jesus who might melt come March is the worst kind of savior.
Best Holiday Special:
The Charlie Brown Christmas Special
I've shared my love for this holiday classic before. From the mystical group hand-waving that turns a scrawny tree into a beautifully decorated masterpiece, to the direct recital of the Christmas story from Luke 2, there's no contest between this show and any others.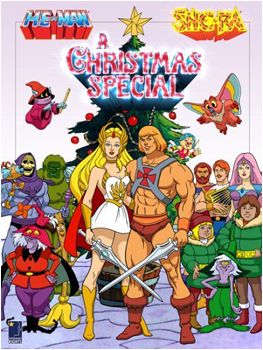 Worst Holiday Special:
He-Man and She-ra: A Christmas Special (1985)
Apparently I missed this special, but if it was anything like the cartoon TV series, it was awesomely cheesy, had homosexual undertones, and featured a character named "Man-at-Arms."
Best Christmas Color:
Red
I think this is an obvious choice.
Worst Christmas Color:
Green
Clearly.
—————–
Your turn. What's on your best and worst Christmas lists? Notice I've left out Best Christmas Movie and Worst Christmas Movie. I know you've got some opinions there.