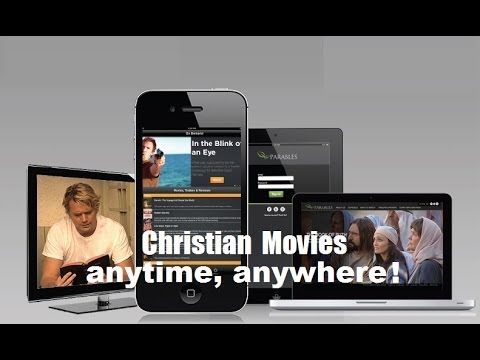 Yes, you read the headline correctly. If you haven't heard there is a streaming television network and video on demand that specializes exclusively in faith-inspired films called Parables TV.
Films like "Saving God" with Dean McDermott, and thrillers like "Fatal Flaw" are part of a growing library. Not many people have heard of the website, which is interesting since faith-films are the talk of Hollywood and more believers are anxious to get their hands on more "clean" entertainment with an uplifting message. Since its inception in late 2012, Parable's goal is to encourage people to teach people through stories, the way Jesus illustrated in the New Testament.
New CEO, and former executive of the Trinity Broadcast Network, Bob Higley, is revamping efforts by reintroducing Parables. Under Higley, TBN grew its viewership to over one-million households by acquiring stations, and owned more stations than ABC, NBC, and FOX.
"Parables is in two categories. It's a linear network and then there's the on-demand service. With Netflix everything is on-demand where you get a library of movies, but Parables is offering a 24-hour linear network, and that's in addition to on demand. We hope to offer this to the cable companies… that's an area we really want to explore. It's a new area for us."
Since Parable's has started online they don't have the reach like TBN has through broadcast. So it's more of an uphill battle.
"We hope with our Affinity partners, ministries, and TV networks that are interested in carrying the 'Parables Movie of the Week' will get the word out to a million more homes."
Be sure to check out Parables for a free 30-day trial.