My kids didn't watch Sesame Street when they were little. But last year, they received the entire run of the Muppet Show on dvd. So, it's not surprising that their favorite parts of Shalom Sesame's It's Passover, Grover feature those lovable, furry creatures. In this episode of the brand new series of Shalom Sesame, the muppets, both veteran and new (or at least newly named, I'm not sure), search all over r'hov soomsoom for some horseradish for the seder plate. The hunt involves a grandmother who sounds suspiciously like Eva Gabor, an Oofnik (think Oscar, but without the green fur and uni-brow), and a giant stinky cheese costume, which Grover dubs "a very sharp cheese ensemble." One of my favorite muppets, Count Von Count, also makes an appearance to, well, count. In Hebrew, of course.
In addition to the always charming muppets, there's a segment with a super-charming (I'd say hot, but I'm probably old enough to be his mother) Jake Gyllenhaal, as well as children explaining the story of the Exodus and singing the four questions, and explanations of a variety of familiar and less familiar Passover traditions. (I had never heard of Mimouna before, but I'm dying to attend a celebration.) The show also effectively, but subtly, reminds us that Jews come in many colors and from many traditions.
I received this DVD to review from the folks at Shalom Sesame. I can't wait to watch the others. And here's a peek at the adorable Jake Gyllenhaal. Because he's a lot cuter than Bonnie Franklin, who appeared in the first season of Shalom Sesame, produced during the years I was teaching Hebrew school in college. (Who's she? If you don't know, then unlike me you probably aren't old enough to be Jake's mother.)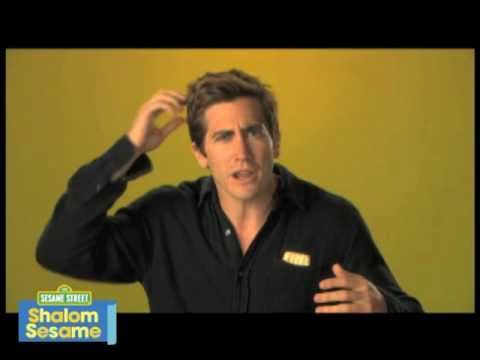 UPDATE: After consulting wikipedia, I have determined that I am not, in fact, old enough to be Jake Gyllenhaal's mother.