Here's today's dispatch from the crossroads of faith, media and culture.
Summer Snow on UP TV tomorrow night (8/17) @ 8:00 PM (ET)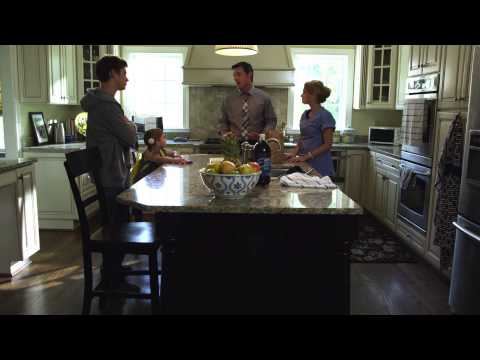 Synopsis: 8-year old Hallie Benson (Rachel Eggleston) has a heart that's bigger than she is. She's always thinking of creative and unconventional ways to help those around her. Whether it's baking cookies for cranky neighbors or selling toothbrushes to raise money for a needy friend, Hallie's acts of kindness always seem to leave a terrible mess for her Dan Benson (David Chisum). Dan is a dentist who is struggling with suddenly becoming a single father following the recent death of his wife. Besides Hallie, Dan is also raising Hallie's high school-age brother David (Garrett Backstrom). Older sister Julie (Cameron Goodman), meanwhile, is newly engaged and has an unmarried roommate who is considering an abortion.  
Produced by American Family Studios and filmed in Lexington, Kentucky, Summer Snow stars Rachel Eggleston (Bereave, House MD), David Chisum (Flight of the Living Dead, Black Box), Cameron Goodman (Benjamin Troubles, 90210), Garrett Backstrom (The Motel Life, Lab Rats), Matthew Alan (The Surrogate) and Brett Rice (Moms' Night Out, The Blind Side). The film is written and directed by the brother/sister team of Jeremy White and Kendra White. Executive producers are Dave Johnson, Tim Wildmon and Jeff Chamblee.
Will Summer Snow melt your heart? The short answer is yes — at least if, like me, you believe life to be edgy enough and find warm-hearted dramedies like this a good reminder that people can make the choice to be kind. Still, I have to admit a couple of scenes tested even my sugar capacity.
My first minor bone to pick the film is what the heck does the title mean? It's touching and all, perhaps I missed something, but I really didn't really get what it had to do with anything that was actually going on in the story. The title would have made a lot more sense to me if instead of Hallie Benson the girl at the center of the story was actually Summer Snow — you know, with Dr. Dan Snow being her father.
As to the story itself, it veers between being very believable in some scenes to a little over-the-top with the cutesiness in others. Most of the latter scenes actually involves Hallie and her friendship with Isabel, a shy immigrant classmate who needs — but cannot pay for — dental work. The storyline is fine but the execution was a little forced. Also, the relationship between Hallie and her grumpy neighbor Mr. Jenkins (a character similar to Mr. Wilson in Dennis the Menace) seems to switch from "Don't bother me, kid" to sweet and touching in an unnatural flash.
If the cute-o-meter on those scenes were just dialed back from an 11 to say a 9, Summer Snow would have been a more consistently-real family comedy-drama in the vein of the classic family series Eight is Enough. Like that show (one of my all-time favorites), the writers balance multiple storylines involving each member of the Benson family with finesse. There's also a nice balance between warm-hearted family drama and genuinely-witty dialogue (even amidst some serious situations).
While there's no denying the cuteness and screen presence of young Rachel Eggleston, to me the best-written scenes actually involved Cameron Goodman as her older sister Julie and her concern for the life of her roommate's unborn child — a concern that threatens her own upcoming marriage. That storyline rings completely true — with the scenes between Julie and her father and Julie and her fiancé providing what I found to be the real meat of the story.

Like many of UP's films, the characters in Summer Snow are the type of people I wouldn't mind following in a series. In any event, Summer Snow is recommended.