Here's today's dispatch from the crossroads of faith, media and culture.
Touchdown! Coming on the heels of last weekend's excellent The Giver, the quality winning streak of faith-themed films continues with When the Game Stand Tall (opening tomorrow, 8/22). Both films — while totally different in genre and tone — are remarkable and noteworthy examples of how to tell stories that touch on positive themes of faith without being didactic or preachy.  Anyone who aspires to make movies that advance the values faith should watch these two movies for pointers on finding the balance between getting a message across and telling a compelling story.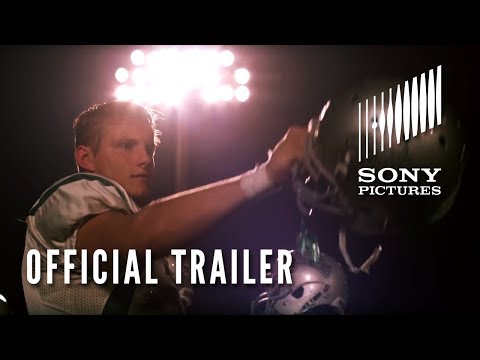 Synopsis (from Sony Pictures): Inspired by a true story, When the Game Stands Tall tells the remarkable journey of legendary football coach Bob Ladouceur (Jim Caviezel), who took the De La Salle High School Spartans from obscurity to a 151-game winning streak that shattered all records for any American sport. (Rated PG)
Cast: Jim Caviezel, Michael Chiklis, Alexander Ludwig, Clancy Brown and Laura Dern
Directed by: Thomas Carter
Screenplay by: Scott Marshall Smith
Story by: Scott Marshall Smith and David Zelon (based on the book by Neil Hayes)
Review: Imagine if Rocky III was the first Rocky movie and was about football instead of boxing and you pretty much have the basic plot of When the Game Stands Tall which, unlike those Rocky movies, is based on a true story. But I gotta tell ya', like Rocky III, the movie scores big time.
Just as the original Rocky debuted in the midst of the troubled and cynical 1970's, When the Game Stands Tall stands out as a beacon for this generation that heroism (and real-life heroes like Bob Ladouceur) do exist and that coming back in times of adversity is possible. That's a message this county certainly needs to hear right now.
And, yes, the Catholic faith of Ladouceur (who, besides coaching, is a religious studies teacher) is presented in a positive (as opposed to ham-handed) style. It's just there and part of who he is. Jim Caviezel, who, of course, is known for playing Jesus in The Passion of the Christ and for his current hit TV series Person of Interest,  is just so right for the part.
I'm also a big fan of Michael Chiklis who has had one of the most interesting acting careers out there. Perhaps best known as the corrupt cop in The Shield,  he also played the mobster in the 2012 TV series Vegas, the superhero dad in No Ordinary Family, The Thing in the Fantastic Four movies and "Curly" Howard of The Three Stooges.  Still, he'll always be The Commish to me — one of the most-underrated of TV sleuths.  Now, he can add the real-life role of Assistant Coach Terry Eidson to his diverse array of credits. And, like Caviezel, he inhabits the part to such a degree that it seems like it was written specifically for him.
Laura Dern is also good as Ladouceur's loyal wife who helps bring him through dark times that, beyond the snapping of a winning streak, include a near fatal heart attack and the senseless killing of the team's beloved linebacker Terrance T.K. Kelly (Stephan James).
Along with James, the young actors portraying the young Spartans are all appealing without being bland. Subplots include a talented running back (Alexander Ludwig) with a father (Clancy Brown) whose dreams for his son's promising football career crosses the border of obsession.  Another subplot involves a player who is determined to remain celibate until marriage — but that's handled as more of a character detail rather than a subject of a sermon.
Much of the creative success of When the Game Stands Tall belongs to director Thomas Carter who is equally adept as staging thrilling football sequences and small character-revealing scenes that provide the basis for actually caring about who wins and who loses — both on and off the field.
Carter's credits include the TV movie Gifted Hands, about the brilliant and compassionate brain surgeon (and, I hope, future presidential candidate) Ben Carson. BTW, I'd love to see Carter do a TV series based on Gifted Hands, even if, for political reasons, the protagonists name had to be changed. The idealistic character is a great relief from TV's decade-long fixation on House-like snarky physicians.  But I digress.
The bottom line is When the Game Stands Tall is Highly Recommended.
____
Newly-released on video: Creed of Gold
Synopsis (from the Crystal Creek Media website): (An) unlikely (of college students) trio faces off against the entire international monetary system in a saga that takes them from the Red Square in Moscow, Russia to the streets of New York City. Father-son team, Producer Mark Knudsen and Director Daniel Knudsen bring an intellectually-based, family adventure drama to the big screen with the story of Adam Smith, a college student who against all odds must clear his father's name and protect the interests of the world from those who would exploit it.
Review: Creed of Gold has a very intriguing plot that sort of plays into the conspiratorial zeitgeist of modern times and is endorsed by the Dove Foundation for delivering a "gripping drama makes a statement that God has laws which must be obeyed or consequences will follow."  But, while director Daniel Knudsen definitely knows how to wield a camera and delivers an amazingly sweeping saga on a less-than-epic budget, the script suffers from some wooden dialogue that would have benefited from some polishing. It, of course, doesn't help that the unnatural dialogue is delivered by largely unseasoned actors.  Moreover, as if to qualify as a faith-based film, what is essentially a political thriller is weighed down by periodic sermonizing that seems forced and weighs down the story. Plus, National Treasure-esque plot lines sort of require rousing sequences — particularly in the climaxes — that this movie, for obvious budget reasons, can't quite deliver.
Still, as a director, Daniel Knudsen shows visual flair and promise. Keep an eye on him.
____
Web Short House of the Righteous debuts on INSP's MOMENTS.org on Monday (8/25)
Western stars Edward James Olmos and Grant Goodeve. The ten-minute film from respected cinematographer Reynaldo Villalobos tells a Twilight Zone-like story of citizens of a small western town who must face down evil in the absence of their sheriff.
MOMENTS.org features original scripted and documentary that celebrate love, hope, faith, valor and other timeless truths in action. Previous offering have featured the likes of Ricky Skaggs, Mark Burnett, Roma Downey, Kirk Cameron and the late Ralph Waite. The MOMENTS video series has won a Telly Award, a Summit Creative Award, a New York Festivals Film & Television Award, a CBC Media Award and special recognition from the Department of Defense for "service to our country."
Note: I'm taking off until after Labor Day. Till then…
Encourage one another and build each other up – 1 Thessalonians 5:11