Here's today's dispatch from the crossroads of faith, media and culture.
Son of God lives. Faith audiences certainly have option at the box office this weekend — with Randall Wallace's genuinely sweet slice-of-life (and afterlife) Heaven is for Real joining Darren Aronofsky's strange take on Noah, and the Pure Flix sleeper his God's Not Dead.  But Roma Downey called in to ask me to remind you that there is a fourth option. Son of God, the hit film that grew out of the success of The Bible miniseries she produced with husband Mark Burnett, is still in theaters and, as she says, changing lives. It certainly does seem an appropriate choice — particularly on Easter Sunday.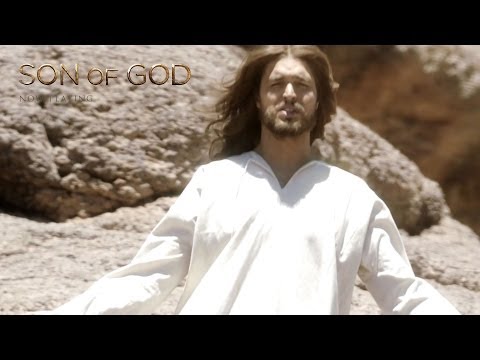 JWK: So, Son of God came out in theater on February 28th and is still playing. I guess that's what they call legs.
ROMA DOWNEY: It is still in theaters and it's been doing phenomenally well. We've been so encouraged and so excited. And here we are (in) Holy Week and Easter, we're just so glad it's still in theaters giving families an opportunity to come together…to see it.
JWK: And the soundtrack album also continues to do well.

RD: Yeah, the soundtrack album is absolutely gorgeous!  I have mine in my car and it plays like a prayer. We took some of the scenes from the film and integrated it in there with the soundtrack (along with) some beautiful Scripture and prayers. And then on there we have some remixes which are just stunning — from CeeLo Green, One Republic, The Fray, Hillsong and so many more. You know, it released into the top five. It's beautiful. It's an emotive experience to listen to the soundtrack. You hear that in the film. Hans Zimmer is one of the great film composers of all time. To have had him on this project from the beginning has been just a blessing.
JWK: And, as you told me in our prior conversation, you've heard from people who have seen the film and say it has affected their lives in very positive ways.

RD: I think that's been the real success of it. You know, we can add up in numbers how people who we believe saw the TV series — at least 100 million in America alone and the millions more around the globe. We can tell, at this point, that many, many millions have seen Son of God here in the states and we anticipate many, many millions more by the time it open around the globe. But there's something very abstract in that, I think. It's only as the personal stories start coming in — when we hear of the individual lives that have been touched (and) transformed by the film that we really begin to understand the scope, the breadth and the real success of this project — because you know lives are being changed.
We had one mother who reached out to us. She had a 17-year-old boy who was in a very dark stage of his adolescence. She felt that he was sullen, he was angry and he certainly had stopped going to church. Every time she would invite him to go with her, it ended up in an argument. But she asked him to go see Son of God with her. It was a reasonable ask, to go to the movies — and an invitation that he accepted. She said somewhere around the Crucifixion sequence he started to cry quiet tears that became bigger. It opened his heart and we know that when hearts are opened grace can move in. She shared that he cried all the way home and that something really shifted inside of him. He really understood what Jesus had done for him personally, how loves he was, how worthy that made him feel. The next morning when she went down to get in her car to go to church, he was sitting in the car waiting for her. That's one story of many stories that are just extraordinary feedback for us as filmmakers — to hear this kind of beautiful testimonial.
We also heard from a 100-year-old lady who had been born in El Salvador and now lives in Los Angeles who has never been to the movies in her whole life. The first — and only — movie she went to see was Son of God. She went with her family and was incredibly moved by the experience. She loved the movie. She wept during the Passion scene and the Crucifixion, of course. Afterward, she said she would recommend the film. Of course, that got our attention…We felt so privileged that if she was only going to see one movie that she saw our movie…
…She was a Christian but had never seen a film on the big screen. I think, even for Christians and for believers going to this film, something extraordinary happens when you see it played out on the big screen. It's larger than life. It serves as a stand-along, larger-than-life experience. When you see what He went through for us, I think there is something so humbling in this that just is moving people.
So, we're hearing of people haven't known Jesus (and) are falling in love with him for the first time through the movie. But I think we're hearing more stories from (Christians) who were in a sort of complacent place (and were) taking it for granted. It's helped to…reawaken (something inside them and) they've falling in love with Jesus all over again and (they are) now are going back to Scripture, going back to church with a new aliveness because, you know, if you consider, John, all from the beginning of time — though religious art, stained-glass windows, through all the many ways we…have tried to create imagery for our sacred text — we've tried to find ways to paint pictures to explain the Gospel to the masses.
This in 2014 so the natural way to allow people to re-experience the Gospel is through film. It's not instead of, it's as well as. Think of it as invitation. Think of it as an introduction — and you go back to church and you go back to Scripture with a new aliveness because you've seen it. You know, we're such a visual age (that it helps) to see it played out. And Diogo Morgado's performance as Jesus is just beautiful. He brings the absolutely perfect combination of qualities…He has strength and yet he has gentleness.
JWK: What's your reaction when you hear Diogo Morgado referred to in the media as the "sexy" Jesus?

RD: I think that he certainly is a good-looking guy and I think that people responded to that. But he is beautiful inside and I think that's what comes across the screen. There's a kindness and a compassion to him. My experience with good-looking actors is that normally they know they're good looking and there's a little bit of a swagger in how they present themselves. When I first met Diogo Morgado, he had none of that swagger. He has none of that narcissism that we might associate with the very good looking. He's a naturally very humble and kind man and his portrayal of Jesus — at the center of Son of God — is deeply touching.
JWK: I understand you arranged to have a group of about 250 people to see the movie for free in Los Angeles.
RD: Yes, we did. We had a group of low-income families bussed into the Pacific Theater in Glendale. Dinner was provided (along with) a screening of Son of God. After the movie, a short Gospel message an invocation were given and one-fifth of the audience that afternoon stepped forward and dedicated their lives to Jesus. S0, (it's) extraordinary how the movie is being used.
RD: Pastor Rick Warren, who is a dear friend of ours, has always joked with us that the most dangerous prayer you can pray is "Use me."
I know that all through my years on Touched by an Angel — which lasted almost ten years and, at its height, reached 20-million people a week — there was always a central scene (we called) the Angel revelation scene. In this scene — having been an undercover angel though the whole episode — I would now reveal who I was…an angel sent by God with a message. The message always contained the hope and the promise that there is a God and God loves you and wants to be part of your life. It was such a privilege for me, John, to be the messenger — as a believer.
In the years after Touched by an Angel, remained "Use me.: What is it that I can do to combine what I love to do — which is making films — with what I believe and love — which is God.
Encourage one another and build each other up – 1 Thessalonians 5:11