Here's today's dispatch from the crossroads of faith, media and culture.
A Legacy of Laughs. As you no doubt have read by now Harold Ramis is dead. The prolific and talented writer-director-actor's filmography includes such iconic comedies as Animal House (1978), Meatballs (1979), Caddyshack (1980), Stripes (1981), National Lampoon's Vacation (1983), Ghostbusters (1984) Groundhog Day (1993), and Analyze This (1990).
Big Hollywood's John Nolte nailed it yesterday when he wrote "What Ramis brought to his best films was not only his priceless gift for comedy but also a ton of heart and warmth. Belushi, Chase, Murray, Crystal, Dangerfield — Ramis cast likable actors who played extremely likable and sympathetic characters. Most importantly, although Ramis's comedy was frequently R-rated and oftentimes involved bare breasts or a Baby Ruth, his humor was playful not dirty, impish not gross, mischievous not superior, naughty not mean. Best of all, it was irreverence with a grin not cold ironic distance."
That's exactly right. Ramis instinctively knew how to mischievously push the envelope while still retaining and promoting the overall value of kindness. Today's so-called "edgy" storytellers could learn a lot from him.
BTW, I've taken some criticism in the past for praising Judd Apatow's raunchy 2007  comedy Knocked Up, starring Seth Rogan and Katherine Heigl as a couple who must decide what to do when their one-night stand results in a pregnancy. I liked it because it was well-written with believable characters and actually made a compelling pro-life case to those outside the choir.  Harold Ramis played Rogan's father in the film. Though I don't endorse his character's endorsement of marijuana, his argument on behalf of life and the joy of parenthood is quite moving. The scene comes right after the one in which Joanna Kerns (as Heigl's mom) makes her case of an abortion.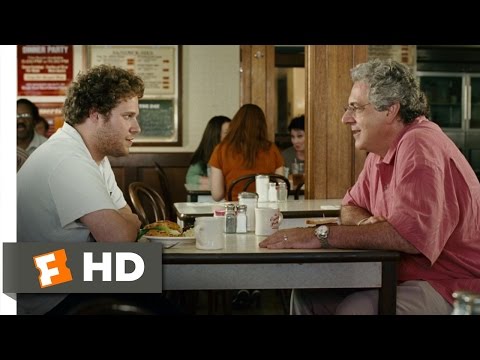 Will Pope Francis watch the Russell Crowe's Noah movie? The Wrap reports that the actor has been tweeting the pontiff hoping he'll come on board. Why not put out an invite to Pope Emeritus Benedict as well? After all, the ark is built for two of everything else, who not a pair of popes?
Encourage one another and build each other up – 1 Thessalonians 5:11