Here's today's dispatch from the crossroads of faith, media and culture.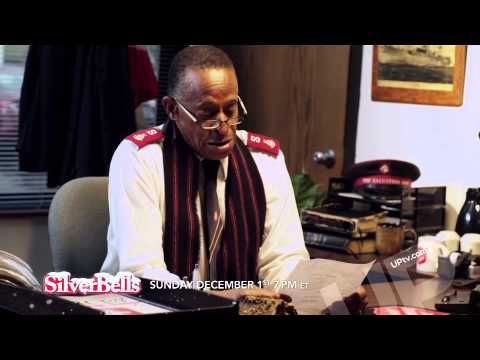 Silver Bells airs tonight (12/1) @ 7:00 PM (ET) on UP.
Synopsis (from the UP website): Bruce Dalt (Bruce Boxleitner) is an ambitious, gung-ho father and local TV sports anchor who approaches the holidays much like he approaches life – competitively. This Christmas, he wants his interior designing wife Piper (Bridgett Newton) to win the neighborhood's annual holiday house decorating contest. He wants his son Jason (Kenton Duty) to be the winning basketball player on his high school team. And of course, he wants everyone in the family — including daughter Kasey (Laura Spencer), who is in her first year of law school – to win by securing the biggest Black Friday shopping deals before dawn. Bruce Dalt is all "for the win!"
This philosophy, however, has put a strain on his family; especially Jason, who has more heart than competitive drive. When Bruce gets into a physical scuffle with a ref (Kevin Downes) at Jason's basketball game, the holidays take a turn for the worse. In no time, the video goes viral. Bruce is then sued, suspended from the anchor desk, and sentenced to community service with The Salvation Army. There, he meets Major Melvin Lowell (Antonio Fargas), who patiently guides Bruce while managing his competitive streak. When Bruce encounters the people in his life from behind the kettle, everything – especially his relationship with his son – begins to change. The Dalts are about to embark on the most meaningful holiday season ever — all thanks to ringing that signature bell.
Review: While serving as virtual movie-length PSA for the Salvation Army, Silver Bells is nevertheless a pleasant diversion suitable for the whole family. Certainly, it's message of that giving is, in the end, more rewarding than winning is a positive one that we all need to be reminded of now and then. Beyond that, Bruce Boxleitner (who made his name as the square-jawed hero on shows like How the West Was Won, Scarecrow and Mrs. King and Babylon 5) is actually surprisingly good in the comic role of humbled blowhard sportscaster Bruce Dalt who is forced by a judge's order to do yuletide service for the Salvation Army. Conversely, Antonio Fargas (who often provided the — intentional — comic relief as Huggy Bear on Starsky & Hutch in the 1970's) is really good as the serious Major Melvin Lowell, the seen-it-all SA mentor who teaches Bruce about a few things about life and the real meaning of Christmas. They actually have a pretty good onscreen chemistry.
True, there might be a First Amendment issue with a judge actually ordering somebody into service of a Christian organization like The Salvation Army. Still, it's not entirely unimaginable that some judge somewhere would do it — and, if it wasn't challenged, I guess such a situation could happen. In any event, Silver Bells goes down as easy as eggnog on Christmas Eve. Likable characters (even Bruce Dalton turns out not be such a bad guy) in humorous story with a kind heart. Works for me. Silver Bells is recommended.  
Encourage one another and build each other up – 1 Thessalonians 5:11