Here's today's dispatch from the crossroads of faith, media and culture.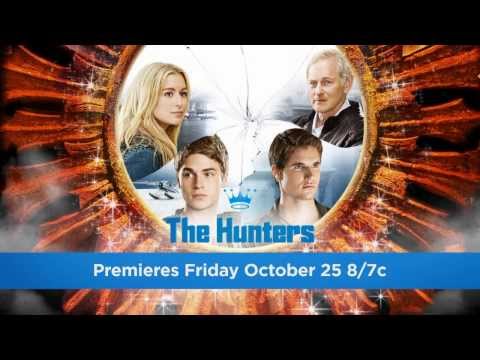 The family business. The Hunters, the fourth original family movie to premiere under the Walden Family Theater banner premieres tomorrow night (10/25) at 8:00 PM (ET) on The Hallmark Channel. Like Return to Nim's Island, Space Warriors, Dear Dumb Diary and The Watsons Go to Birmingham before it, the film is sponsored by Walmart and P&G — in a partnership that has proven to be very supportive of such fare. The question is why? Why is supporting family entertainment — at a time when broadcast television mostly seems to be eschewing such fare — good for their corporate bottom lines?
For an answer, I asked Aaron Tucker, Senior Manager-Marketing/Media Content & Integration at Walmart.
JWK: Why did Walmart and P&G decide to come together to sponsor Walden Family Theater?
AARON TUCKER: Walmart's a major advertiser in a number of areas. We have a long history of advertising on family-friendly movies and television shows. In 2011 we made a strategic decision to partner with companies like Walden, Hallmark and others to create (and) be a part of entertainment that our customers could enjoy with their families. We know that our ads are more effective when their connected to family-friendly programming. There's a 30 percent more-effective rate of what we call "green programming." We know that there's not enough of it in the marketplace. There's a study done in 2011 (that looked at) a couple thousand shows across the broad spectrum of the media  landscape and only about 18 percent were in that green programming area. There are not enough properties out there to meet our advertising objectives of being connected to good content.
JWK: How do you define "green content?"
AT: That's industry terminology (for programming) that doesn't have gratuitous sex and violence. The industry definition would be something that moms can feel comfortable with their children without having her hand on the remote control.
JWK: How has the audience responded to the films aired so far?
AT: Very well.

JWK: There have been three original movies presented under the weekly Walden umbrella — including Return to Nim's Island, Space Warriors and The Watsons Go to Birmingham. They're to be joined this week by The Hunters.  All four have scored will with your target audience?
AT: We have specific data for the first two — but all four have gotten positive reviews. They premiere on a Friday night and then the DVD shows up at Walmart the next Tuesday. Sometimes it's a week later than the next Tuesday but, generally, it Friday till Tuesday. And those have been selling well within our family inventory.
JWK: Have you received emails from viewers who have registered their feedback?
AT: Yes (and) it's interesting. We listen to our customers all the time and we know that this is a desire for them. They tell us that they want to enjoy television shows and movies that they can watch with their families. So, our P.R. team will receive (feedback) from them. Our president will receive (feedback) from fans (and) not just for these movies but other family-friendly content that we support. We supported The Bible series from Mark Burnett…Some people were questioning (whether we should) be advertising on that because it's a religious topic. (We said) "Let's look at what our customers would say." So, we did a survey (and found) that most would expect us to be in that type of programming. We got a huge, overwhelming response of (people) thanking us for helping support and promote a series like that. So, when it comes to good content — whether that has a religious tone or not — families are looking for stuff they can watch with their kids.
JWK: Walmart and P&G also sponsored a series of family films that ran on NBC and Fox. To me it seemed like those networks never really got behind the movies — insofar as they stood in stark contrast to almost everything they have running in prime time. Do you find Hallmark to be a more receptive partner for this kind of material?
AT: Hallmark has been a great partner in coming up with a model that works for all of us…They have the Hallmark Movie Channel (so) you have the ability to air a premiere and then have a number of re-airs on the same channel and then put it on the Hallmark Movie Channel. So, that's a great model. We love working with NBC and Fox. We did that with the past movies — which we called Family Moments. That worked good as well but we were looking for a continuing Friday night venue and Hallmark was able to deliver on that.
JWK: In between these original films, Walden Family Theater offers an assortment of previously-aired family-friendly film. Do Walmart and P&G sponsor those as well?
AT: Correct. Under the Walden Family Theater they have other films that they have in the can, that they have on the shelf, that we support….We have not only a great partnership with the media company  Hallmark, we have a great partnership with Hallmark in general. We sell a lot of cards and a lot of holiday merchandise at Walmart. They have a significant amount of products for the holidays, particularly around Christmas.
JWK: Do you find that the broadcast networks have become less supportive of family-friendly entertainment than they used to be? I remember growing up with shows like Eight is Enough and The Waltons. You don't seem to find that kind of unapologetically warmhearted programming on broadcast anymore. It's like they see themselves as too hip for that kind of stuff. That's why, it seems to me, Hallmark has become a more natural home for both seeking to view those kinds of shows — and those seeking to make them.
AT: Hallmark is a natural home for that but…just like we're seeing with…The Bible series (and) what we're seeing with Duck Dynasty on A&E, we know that this kind of content works and there are viewers out there that desire it. Those kinds of viewers are our customers. We know by listening to our customers that they desire this kind of content. We've had those discussions with NBC and ABC. Actually we've been a part of…sponsoring a show called Bet on Your Baby on ABC…and then with NBC we sponsored Bear Grylls' Get Out Alive which a little more adventure and outdoor survival but the idea was you could watch with your kid. That got positive reviews.
Networks are a big infrastructure and there are a number of people (with subjective) opinions…I think when you get through the layers of opinions at the networks. It will come down to where are viewers — and what are they watching? When you see the example of 100-million people (around the world) watching The Bible series or Duck Dynasty (which is) in 100 countries and hundreds of millions of people watching that, as well, the networks will, we hope, be wise and desiring (of) family-friendly content.
I think they're trying. I think they have their own idea what "family-friendly" looks like. So, I think they're trying. No one's necessarily is hitting it out of the ballpark right now.
JWK: But Hallmark is.
AT: Yeah, Hallmark is. They get it. They're continuing to grow their viewership and spread the awareness of their channel — especially for holidays. Christmas season is when they get huge numbers.
JWK: I notice that the quality of the family films you've been sponsoring has improved dramatically since switching to Hallmark and airing under the Walden banner.  It wasn't so much that they were bad on NBC and Fox but the whole partnership between you, Hallmark and Walden Media, as well as ARC Entertainment, has resulted stronger storytelling. They just seem to have a real feature quality now that wasn't there in the beginning.
AT: Yeah, thanks for recognizing that. I think (that's what happens) when you have great partners like ARC and Walden who are best in class at that they do. ARC is a great (company) and connection to talent. Walden has a great running track record with The Chronicles of Narnia, Charlotte's Web and their list of films. And then when you get incredible producers and directors, it's just a great match up. So, like with The Watsons Go to Birmingham — this past movie — we had Tonya Lewis Lee, Spike Lee's wife, directing it. She wants to be a part of more family-friendly entertainment.
JWK: I really enjoyed that one.
AT: Yeah, the quality was great. So, we're really proud of these films.
JWK: How are the titles you produce chosen?
AT: There are a number of books and scripts out there. It's kind of a very collaborative effort with our production partners — with Walden, with ARC, with Hallmark, with P&G — and we find one. It's great when a film already has built-in awareness — you know, a number-one book or a popular book. Then (we ask) is it a good fit with what our customers want to see. It's a mixture of good overall drama, action and adventure with some kind of value attached to it — (such as) encouraging teamwork or finding truth or that kind of aspect.
JWK: To me that's what works with these films. The exact mix can be different depending on the film but, overall, they  maintain a good balance between drama, action, comedy and heart. And whatever messages there are do tend to flow naturally from the story — rather than coming across as pushed.
AT: (The) Family Moment (films and NBC and Fox) were great and worked really well but in the next iteration of what we're doing — which is Walden Family Theater — we wanted to really look at how (to) improve the content with an organic feel (and) just good storytelling. So, with The Hunters you see teamwork coming through. You see trust. You see self control. Those are things that moms can get behind (and) support. They know that their kids are being entertained but also maybe learning a little nugget of truth along the way.
Encourage one another and build each other up – 1 Thessalonians 5:11