Here's today's dispatch from the crossroads of faith, media and culture.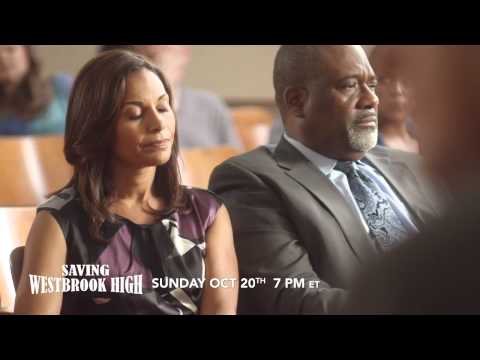 Saving Westbrook High premieres tonight (10/20) at 7:00 PM ET in UP TV.
Synopsis (from the UP TV website): Manny Cortez is uprooting his family – wife Teresa and daughters Selena, 14 and Gabriella, 12 – so that they can go to Westbrook High where his beloved late father was the football coach. Soon after the Cortez family moves into the Westbrook school zone, it is announced that Westbrook High will close due to budget reasons. Long known for being a wonderful environment with special teachers, the staff, students and parents decide to fight back – Westbrook High is worth saving. Charismatic English Literature teacher Elijah Bennett leads the charge for the teachers but has to deal with the new principal, Dr. Christine Walker, who has very different views on education and the value of protesting the school board's decision. Elijah and Christine were students together at Westbrook many years ago and despite their differences there is a bond and some sparks. Perhaps most passionate about saving the school are the students, especially shy and insecure Jasper, who emerges as a leader. Selena joins the cause and learns why her father was so passionate about this school and her education.
Review: One reason I really like Saving Westbrook High is that it reminds me of a time that TV actually celebrated the idealistic teacher on classic shows like Room 222 and, even earlier, Mr. Novak. The film features an exceptionally likable cast of actors, including (as the faculty) Coby Ryan McLaughlin (English literature teacher Elijah Bennett),  Clare Carey (history teacher Sara Davies) Brian Lafontaine (chemistry teacher Boomer Joseph), Greg Alan Williams (as Asst. Principal Robert Melville) and Salli Richardson-Whitfield (as Dr. Christine Walker, Westbrook's principal). BTW, I remember Clare Carey as the daughter of teacher/football coach Hayden Fox on the long-running but critically under-appreciated Craig T. Nelson sitcom Coach.
Most interesting is 1.) how the movie ably portrays the concept of a school being a community within a community and 2.) the relationship between English teacher Elijah Bennett and Principal Christine Walker. They're both alumni from the school. He was gregarious and popular. She was shy and not so popular. Their past experience at Westbrook plays a bearing on how they handle the school's current problem. There's also just a hint of romantic attraction between them.
The film was executive produced by Esai Morales (with Rhonda Baraka and Loretta Devine) who also plays the role of Manny Cortez, a concerned father (and school alum) who becomes involved in the fight to save the school. While Morales is one of my favorite actors (he was great in NYPD Blue), I couldn't help but feel the screen time spent on his relationship with his family had the effect of taking the focus off the teachers and students and throwing the film slightly off balance. True, he is the biggest name in the cast and a fine actor and I understand the idea of trying to include parents as part of the fight.  But somehow his part seemed almost extraneous. I think his role in the film should have been restructured.
I also, quite frankly, found the scene where Elijah Bennett prays to be a bit clunky. It came across as sort of obligatory — put in there to appeal to a faith-based audience. While I firmly believe in the positive power of prayer (and have experienced it myself), I think it's really important that such scenes flow naturally from the story and it didn't feel that way here. An earlier scene, where Bennett mentions his faith in God in conversation, seemed far more natural and, for that reason, worked better.
Quibbles aside, I'd love to see these characters continue and think UP should consider a Westbrook High series. If done right, it could bring both younger and older viewers  to the network and could even be a show they'd watch together. The school backdrop is a natural for exploring all sorts of contemporary issues. And society could benefit from a show that presents education and teachers in a positive light. And making at least one of those teachers a believing Christian is certainly a good thing. I'd just suggest a somewhat lighter touch.
Saving Westbrook High is Recommended.
Encourage one another and build each other up – 1 Thessalonians 5:11