Here's today's dispatch from the crossroads of faith, media and culture.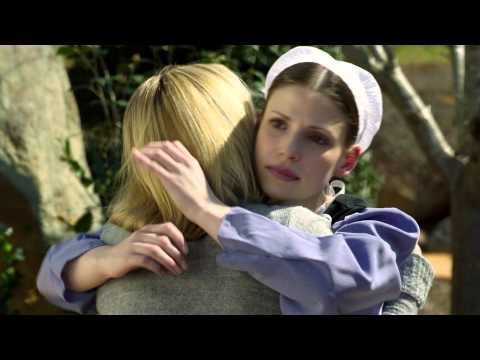 The odyssey of Katie Lapp comes to TV…As Chief Content Officer of the Odyssey Networks, the respected developer of faith-based movies, television and online programming,  was there at the beginning as Beverly Lewis' enormously popular Amish saga known as The Heritage of Lancaster County made its way to television. Beginning with The Shunning, the books tell the story of Katie Lapp, a young woman who was raised by Amish parents but how finds that her true heritage may lie outside the community she has known and loved since infancy. Odyssey partnered with Believe Pictures to bring The Shunning to Hallmark Channel in 2011. The Confession, part two of the trilogy, airs tonight (Saturday, May 11) at 9:00 PM ET.
JWK:  What is it about Beverly Lewis' Heritage of Lancaster County trilogy that appealed to you?
MAURA DUNBAR:
First of all, Beverly Lewis is such a beloved Christian author and I think she has that unique perspective into the Amish community with her own background…We got so engaged in the story of Katie Lapp. When we last saw her, she was venturing off to try to find the mother who had come looking for her and really unlocked the secrets of her past. It was just such an engaging story. We had to come back for the second (book). I'm happy to say that there's an amazing third book that sort of completes the trilogy called
The Reckoning
. So, in
The Confession
we get a chance to be reunited with Katie. She gets there and there's this mystery that she's got to solve.  She thought she was coming to what would be a homecoming only to find out that there's an imposter standing in her own shoes pretending to be her all the while her mother is dying and ill. It's a wonderful story about faith and love and a family connection that binds us. We knew going in with the first book (that) we wanted to tell the whole trilogy.
JWK: Speaking of the first book, The Shunning had some very good ratings.
MD: Yeah, the ratings were very good.
JWK:
Do you think the strong ratings for films like
The Shunning,
your own GSN game show
The American Bible Challenge
and, of course,
The Bible
miniseries resulted in a greater demand among networks for faith-related material?
MD: I actually do. I think that there is a growing trend and awareness. I look at it in this way. The world is increasingly getting much more complex. We are experiencing (high) levels of terrorism and violence. There's no clear path. Unfortunately — or fortunately, depending on how you look at it — when you come to issues like morality there's no clear-cut good or bad…We make exceptions for celebrity. We make excuses for people's behaviors in such in a way that I don't think we would have twenty or thirty years ago.  So, when a world is in tumult between political, geopolitical (and) terrorist threats, (plus) the economy and so forth, I think…people gravitate toward stories that inspire them to feel connected to something larger than themselves. And, in this case, I think that's faith. I think it's a human connection. All of our stories try to really tell tales of redemption and transformation, relationship, forgiveness and, I think, in a confusing world, these become valued. I call it virtue-tainment because it's less about proselytizing one's faith than really connecting the audience to the virtues and values that, I think, we all hold dear but are sometimes lost in the over-commercialization of entertainment and then, of course, the headlines that impact us so gravely today.
JWK: What was it like working with Michael Landon, Jr., particularly as a director?
MD: Oh, Michael's great! He's amazing! He's always got such a great attitude. On the set, he's always the sort of the center of calm. He's got a wicked, funny sense of humor and he's exceptional with actors. He understands actors. He's able to speak to them and he has a great affinity for this style of storytelling.  And, of course, I think his faith also brings something, (that) added value of authenticity.
JWK: You've partnered on this project with Believe Pictures, the company Michael formed with Brian Bird, and also Mission Pictures.
MD: Mission is our foreign distributor.
JWK: How do you put a deal like this together?
MD:
Well, I had a relationship with Michael that goes back to when he pitched me at ABC…When I was at Hallmark Channel as head of original programming, he brought me a little script that he had written and adapted by this
CBA
author. It was…
Janette Oke's Love Comes Softly
and…I thought this was a perfect story to put on Hallmark that was great general entertainment (with) great characters (and) great values. It had this faith element that I thought would be huge because that audience — the CBA audience — recognizes Janette Oke. She's a beloved author. So, I knew there was a promotional opportunity. It was a good (property) for The Hallmark Channel. It fit with their family values (and) it was inspirational. I got that up and running and so, years later, when I came to Odyssey Networks, Michael and I got in touch and, of course, my predecessor
Bill Reilly
— who also knew Michael because he was one of the executive producers on
Love Comes Softly
— and we knew we wanted to work together. It was a matter of trying to find the right project, the right material. We…believed in the (
Lancaster County
) franchise and believed in Michael (so) we paid for the development of the script and the option and kind of did a backdoor development with Barbara Fisher (
now with GMC
) who was at Hallmark Channel at the time…So, we shouldered the financial burden of the project. We so believed in it and, as it turned out, Barbara fell more and more in love with the project and so that's how (
The Shunning
) happened. When it was finished and it was ready, she saw what it could be a Mother's Day movie and got us into production.
JWK:
So, besides
The Confession
(
The Shunning
sequel) on Hallmark, Odyssey has
The American Bible Challenge
on GSN which is still doing well.
MD: Very, very well.
MD: Yeah, that's a great promotion by GSN. The team there is just great. It's like having an army of P.R. and marketing and so they've been terrific and they came up with this idea which I think is just terrific and fun.
MD: Yes! I'm still working on that. I'm hoping that the successful wind that Mark Burnett and Roma Downey have started blowing about with their huge blockbuster The Bible will breathe some new life into the miniseries that we developed with Scott Abbott. I have a couple of opportunities that we're pursuing on that. So, if you could…say a prayer…Hopefully, in a few weeks I might know more. You never give up on these projects. You invest the money (and) you believe in what you've developed. You and I have talked before about Odyssey being uniquely positioned in that we (hang) in there with projects. It's not about high volume and turnover. It's about doing projects that we think will have a positive impact and, again, harkens to these messages of forgiveness, transformation and redemption. Virtue-tainment.  We stick with things…The Maccabees is one of the greatest stories of the battle of faith that's never been told on film. With the success of The Bible and some of these other historical pieces that have been done — you're watching The Vikings doing very well — I think there is an absolute market for this.
JWK: What else is on the Odyssey horizon?
MD: Well, we're doing some more projects with Hallmark Channel, developing a couple of movies that they have an eye on for airing in 2014…I'm actively looking for material, probably more along the lines of books. We've got the rights to a couple of different franchises now that I'm starting to take out as either limited series or series — all of them still with a footprint in the faith market.
JWK: Are you developing any potential ongoing weekly series, such as dramas or sitcoms?
MD: Well that's exactly where we're headed. Two of them are sort of in the drama area…I've secured the rights to this book that I've gotten set up as a feature film and that'll be our first feature. So, that's exciting. We've got a couple of other things.
JWK: I know that Odyssey is pioneering online development and distribution. Any news there?
MD:
Everything is changing so quickly in the online world (as) you look at the success of Netflix and their two series —
Hemlock Grove
and
House of Cards.
I think what we're looking to do right now is really kind of focus in on existing content brands that we're establishing and look to build out through that. So, (for example),
On Scripture,
we're gonna really start to look at ways in which we can take that into the online education market or premium subscriber content market (and) make it more useful and accessible for clergy or even seminarians. We're really looking at that and looking at different opportunities around
Call on Faith
. We have a couple of new channels that have gone up on
Call on Faith
(including)
Music and the Spoken Word
by the Latter Day Saints. The Salvation Army has a new channel on our digital mobile app. I've had the privilege of being able to interview
Rev. Ed Bacon from All Saints in Pasadena
about his new book
8 Habits of Love
. We have a couple of different interviews with Ed. So, we've got a lot of good stuff going on.
Encourage one another and build each other up – 1 Thessalonians 5:11