Here's today's dispatch from the crossroads of faith, media and culture.
Two movies are opening this weekend that call attention to the historic and ongoing quest for human rights here and around the world. 42 tells the story of how the legendary Brooklyn Dodger Jackie Robinson broke through Major League Baseball's color barrier in 1947. Not Today offers a dramatic look at how slavery and human trafficking still exist even today.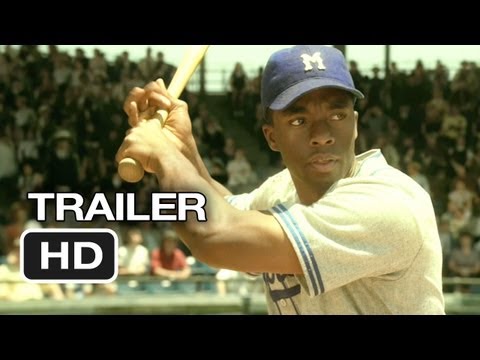 42 scores! Chadwick Boseman, a promising young actor perhaps best-known for his role in the ABC Family series Lincoln Heights, plays the Negro League shortstop with an appointment with destiny. He easily holds his own opposite screen icon Harrison Ford's portrayal of Branch Rickey, the Dodgers general manager who defied the racist conventions of his era. The role is far, far away from Han Solo but Ford, like he did in Star Wars (and his many other heroic roles), inhabits the part like he was born to play it. The strong cast also includes Nicole Beharie as Jackie's strong and supportive wife Rachel, Lucas Black as Pee Wee Herman, Andre Holland as Wendell Smith (the black sports writer who faced his own color barriers), John C. McGinley (Scrubs) as famed sportscaster Red Barber and Christopher Meloni (Law & Order: SVU) as Dodger Manager Leo Derocher.
Derocher, a supporter of Robinson, was suspended from baseball just as the season was about to get underway due to an adultery scandal that drew the ire of the Catholic Youth Organization. When Rickey couldn't find another manager who would agree to step into the controversy that Robinson's place on the team was generating, he turned to his friend Burt Shotton (Max Gail of Barney Miller), a former manager of the Philadelphia Phillies who was semi-retired and working as a scout for the Dodgers at the time. Though not as ferociously flamboyant as Derocher, he too supported Robinson and in his gentle, quiet way got the job done.
This story, of course, has been dramatized before — most notably when Jackie Robinson portrayed himself in a 1950 film called, appropriately enough, The Jackie Robinson Story (airing this Sunday, BTW,  on the African-American network Bounce TV). As for the 2013 version, in many ways it almost seem like it could have been made in the fifties — or, perhaps, given the inclusion few expletives (including, of course, the "N" word) in the dialogue, the sixties or seventies. And I don't mean that as a dis. Actually, Writer/director Brian Helgeland (A Knight's Tale) framed this major battle in the war for civil rights as a truly idealistic struggle. Presentations of true idealism are hard to find in the popular culture these days.
Branch Rickey, by all accounts I've seen, was driven by his Christian faith to do what he could to stand for racial equality at a time when doing so could literally be hazardous to your health to one's health. He, like Jackie Robinson, and, according to Rickey, God, were Methodists.
Though Robinson had been court-martialed for refusing to sit in the back of a bus, Rickey saw in him a man who had the character to actually live out  Jesus' prescription for dealing with evil.  The power of turning the other cheek is pretty much the theme of the film. And the film captures the inescapable fact that doing so isn't easy. It's not even easy in the small slights of ordinary life — let alone the relentless insults and humiliations that Robinson had had to endure.
During their first encounter, a skeptical Robinson sarcastically suggests that Rickey is looking for "a player that doesn't have the guts to fight back."  "No," Rickey replies, "I want a player who's got the guts not to fight back."
As the story plays out, Robinson endures several indignities that are played out in public and his struggle to control his very human inclination to fight back is vividly captured Boseman's performance. It is through the power of his decision to exercise self-control that he revealed (to all who would see) the ugliness of racism. That was his victory.
Does the movie completely capture all the ugliness of racism and everything Robinson faced? No. But the film isn't about dwelling in the darkness. It's about the contrast between darkness and light — and how light always drives away darkness in the end.  So, yes, you'll feel angry while watching this movie. But what you're left with isn't anger. It's hope — hope that good people really can change the world. And they can do so without resorting to the tactics of their enemies.
As Branch Rickey says "Your enemy will be out in force but you cannot meet him on his own low ground." That's a lesson that carries through to this day.
BTW, thirty or forty years from now, it's not at all hard to imagine that Boseman will be the screen icon sharing the bill with a rising young star.
42 is highly recommended.
Meanwhile, the struggle for basic human rights continues — as depicted in Not Today.
A Schindler's List for our time. Opening in just 75 theaters nationwide this weekend, Not Today, independently-produced by Friends Church of Yorba Linda, will need strong showings in those theaters to earn its way the wider release it richly deserves.
The movie tells the story of Caden Welles (Cody Longo of TeenNick's Hollywood Heights), a spoiled college-aged kid from Orange County, CA who travels to India with a bunch of buddies in search of a good time. A chance encounter with Kiran (Walid Amini), a Dalit beggar, and his young daughter Annika (Persis Karen) introduces the smart-ass — but, actually, sheltered — young man to a reality he was completely unaware of. At first Caden tries to ignore Kiran's plea. Later, when Caden finds himself lost and without money, he accepts Kiran's help in finding his way back to his hotel.  He intends to pay him but, as so-called untouchable Dalits, Kiran and his daughter are not allowed inside the hotel — forcing Caden to leave them while he goes to his hotel room for some cash. When he returns, they pair have already been shooed away from the area by hotel security.
Caden tries to forget the incident but his conscience gets the better of him. Days later, he sets out to try and find them. He finally does find Kiran but that's far from the end of the story. Kiran tells him that, in desperation, he sold Annika in the hope that she'd be adopted by someone better able to care for her. It soon becomes clear, however, that Annika is in the hands of human traffickers who have anything other than her interests at heart.
Like Oskar Schindler, Caden becomes a reluctant hero who risks it all for a cause larger than himself. Caden's quest, however, is to save one little girl. It's a gripping search that had me on the edge of my seat. The story is told with a visual sense not usually found in faith-based films which, even when they're good, are often somewhat unimaginative in that regard. In his first full-length feature, director/writer Jon Van Dyke demonstrates amazing confidence. I expect we'll be seeing a lot more from him.
Not Today also features John Schneider (Smallville, The Dukes of Hazzard) and soap star Shari Rigby (The Bold and the Beautiful) as Caden's stepfather and mother. Schneider and Rigby also co-starred in last year's surprise-hit October Baby.  Cassie Scerbo (Make It or Break It) plays Audrey, Caden's girlfriend with whom he communicates his growing anxiety via Skype.
Facts worth noting:

Some estimates place the worldwide number of people in forced labor including sexual exploitation as a result of trafficking at 27 million. SOURCE: U.N. Global Initiative to Fight Human Trafficking
Profits from all trafficked forced labor: estimated $31.6 billion/year. SOURCE: U.N. Global Initiative to Fight Human Trafficking
More than 1.2 million children in India are trapped in human trafficking as child prostitutes. SOURCE: National Underground Railroad Freedom Center India Conference
Friends Church has committed to spending $20 million to build 200 of 1,000 proposed schools for Dalit children in the coming decade. Friends already has funded more than 40 of the current 107 schools. Profits the church receives from Not Today go toward building schools and freeing children. Persis Karen, who plays the Dalit child Annika, is herself a Dalit, plays the pivotal role of Annika. Born in the slums of Hyderabad, her school is among those funded by the Dalit Freedom Network with support from Friends Church.
Persis, BTW, received the Breakthrough Performance Award at the 2012 Charity Film Festival in Monaco.  The movie itself has also won honors at the Justice Film Festival, the Peace on Earth Film Festival, the Richmond International Film Festival and the Pan Pacific Film Festival.
To support Not Today, and its very good cause, you can locate a theater showing it here.
Like 42, Not Today is highly recommended.
Note: I'll have an interview about the making of Not Today with producer Brent Martz tomorrow.
Encourage one another and build each other up – 1 Thessalonians 5:11