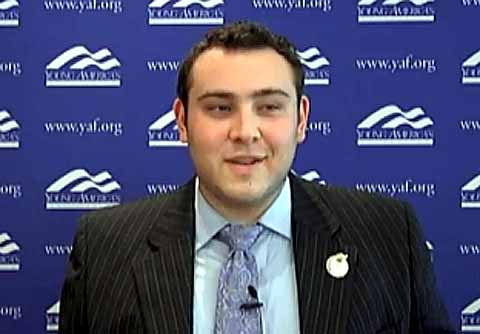 In December, The Blaze penned a report about Jewish students at Rutgers who claim that they have been harassed, intimidated and discriminated against on campus. One of those students, Aaron Marcus, came forward to discuss what he believes is an anti-Semitic environment. This week, as the battle over the climate at Rutgers continues, Marcus finds himself at the center of what he believes is a cruel, un-called for and anti-Jewish attack.
In what Young America's Foundation's Ron Meyer called "a sick attempt to be funny, The Daily Medium — a satirical, student-led campus newspaper — published a fake article attributed to Marcus. The piece, which was titled, "What About the Good Things Hitler Did?" and published along with a picture of the Jewish student, was penned to appeared as though Marcus had written it.
The Medium, which calls itself the "Entertainment Weekly of Rutgers," is apparently known for snarky and comedic content. But in an exclusive interview with The Blaze, Marcus said he hadn't seen anything quite like this during his three years at Rutgers. He says that this, teamed with other issues that have unfolded at the school, seems to showcase that the campus is "mainstreaming anti-Semitism."
"[In the past, they've] always used aliases," he said, going on to lament the fact that his picture was PhotoShopped and that his name was "stolen" in an effort to provide praise to Hitler.
Meyer pulled out some of the more controversial lines in the article:
"What about the good things Hitler did?"
"I couldn't help but think that history has given the Third Reich and its leaders a bad rap."
"More importantly, the surviving member of the Jewish faith were inspired by these 'atrocities' to move to Palestine… and which I think would not have happened without the help of ol' Adolf."
"So the next time you are driving in a car, watching the movie 'Armageggon' or walking past Hillel, be sure to give Hitler a little thanks. I know I will."
"Hillel" seems to be referring to the campus group (Rutgers Hillel) that works to celebrate Jewish culture. Here's a screen shot of a portion of the article that was published with his name and image:
Screen shot from The Daily Medium
"Rutgers has perpetually done nothing to protect Jewish students," he explains. "If these types of things happened to other students on campus they would be taken care of immediately, but when they happen to Jewish students and particularly pro-Israeli students — they are ignored."
Marcus went on to claim that the school has "made it permissible to be anti-Semitic on campus." He says the university, which prides itself on
being the most diverse in the country, is "only diverse if it's not Jews." He went on to describe the article's publication as causing "an emotional pain," as his family was personally effected by the Holocaust.
"I come from a family where my grandparents lost large portions of family in the Holocaust and it's obviously a very emotional event in history that I don't take lightly," he explained.
The Rutgers student went on to describe confused phone calls he received following the article's publication.
"It's really disgusting," he added, going on to describe phone calls and text messages he has received from friends and classmates who thought the article may have legitimately come from him. See, Marcus writes a column for The Daily Targum, another campus newspaper.
"People actually thought I wrote this," he said. "People thought I wrote it because they used the identical template for how my column usually runs."
Below the article, a short "biography" reads that Marcus is, "very excited to be graduating this semester and plans to grow up to be very rich, cause a bunch of problems and then blame poor people for all of them, thereby getting a tax break":