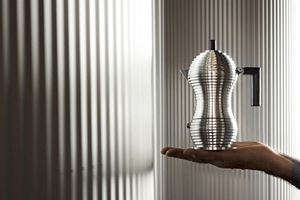 Image Credit: Alessi
These products were selected by StackCommerce, which created these articles. The products are not endorsed by the Beliefnet editorial team. If you buy something through these links, Beliefnet may get a small share of revenue from your purchase.
The intersection of art and science has long been a contentious issue. Ironically, spirituality can often be defined as the meeting point of these two phenomenons: a reverential and awe-inspiring experience grounded in natural processes.
This intersection defines the work of Italian architect and designer Michele De Lucchi. The award-winning designer won his first accolades in 1987 for the Tolomeo desk lamp, winning praise from institutes in France and Germany. Since then, he's produced incredible chairs, sunglasses, lamps, desk accessories, and computer boxes.
Add a coffee maker to that list. Not just any drip-coffee machine, mind you. The Alessi Pulcina 3-Cup Espresso Maker is De Lucchi's homage to that perfect blending of art and science, a tool that you'll feel great about using every morning.
This high-performance espresso maker is designed with a boiler that stops dispensing right before the coffee gets a bitter aftertaste, which enhances the full and rich aroma of the beans. The spout's functionality is also notable: the V shape is designed for pouring the perfect cup.
The design alone makes it worthy of awards. The magnificent silver body is complemented by a black handle, built to ensure you won't burn your hand while pouring your coffee.
Bring a little piece of this master designer's work into your home and watch your daily ritual become even more meaningful. Just as taste is equal parts tongue and nose, the eyes are part of the sensory experience.
Alessi Pulcina 3-Cup Espresso Maker - $49.99
Alessi Pulcina 3-Cup Espresso Maker is on sale now for just $49.99, a 58 percent discount from the list price.
Price subject to change.