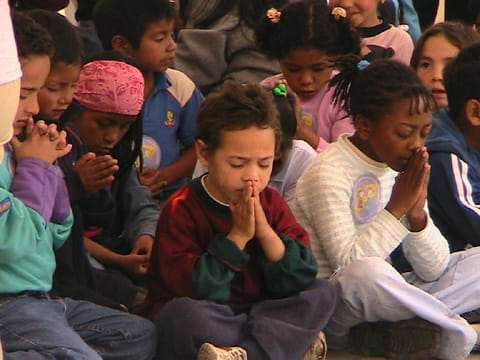 So, who is qualified to pray for the President of the United States?

Everybody and anybody, according to the Apostle Paul writing to young follower Timothy in what author Mark D. Roberts calls "one of the most commonly disobeyed verses in the Bible."

Obama pauses to pray at Jerusalem's Western Wall

"I urge you," Paul told Timothy, "first of all, to pray for all people. Ask God to help them; intercede on their behalf, and give thanks for them. Pray this way for kings and all who are in authority" (1 Timothy 2:1-2). "They were to do so even if that ruler was tyrannical," notes Roberts.

It's not always easy to pray for those in power.

In other words, even if a Christian detests the person in power, we are supposed to pray for him or her anyway. And there's nothing in the Bible about clergy being the only ones who can do the praying.

So, President Barack Obama was well within Bible guidelines when he broke historic precedent on the eve of his second inauguration. He selected the first layperson ever, Mrs. Myrlie Evers-Williams, the widow of slain civil rights activist Medgar Evers, to offer the inaugural benediction.

Myrlie Evers-Williams

In the past, that honor has been reserved for men of the cloth. No woman had ever given an inaugural prayer. In 1937, the first time that the ceremonies included an invocation – generally an opening prayer that God bless and guide the proceedings – was given by the Chaplain of the U.S. Senate, Episcopal Clergyman ZeBarney Thorne Phillips. The 1937 benediction – a closing prayer often asking God to bless and protect attendees as they return home – was given by Catholic priest John A. Ryan, a professor at the Catholic University of America.

For Obama's second inauguration, the benediction was going to be

offered by anti-sex-trafficking activist Louis Giglio. However, Giglio was abruptly disinvited when he was deemed unworthy for the role.

The Rev. E.L.R. Elson praying at Dwight D. Eisenhower's 1957 inauguration.

At a number of inaugurations throughout history, multiple prayers were offered. In Dwight D. Eisenhower's January 20, 1953, ceremonies, the Catholic archbishop of Washington prayed, then a Jewish rabbi, followed by Eisenhower himself. The final benediction was offered by an Episcopal bishop.

At the January 20, 1969, inauguration of Richard Nixon, five prayers were offered: first, African Methodist Episcopal Bishop Charles Ewbank Tucker, then Los Angeles Rabbi Edgar F. Magnin, followed by His Eminence Iakovos, Greek Orthodox Archbishop for North and South America, and Southern Baptist Evangelist Billy Graham. The final benediction was offered by Catholic Archbishop Terence J. Cooke.

Archbishop Michaal Iakavos at Nixon's inauguration

Nobody protested who was going to pray. The press didn't seem to care. But things have certainly changed. Why?

At his January 20, 1977 inauguration, Jimmy Carter trimmed the prayers back to an invocation by Methodist Bishop William Cannon and a benediction by Catholic Archbishop J. R. Roach.

At his January 20, 1981 inaugural, Ronald Reagan called on his own pastor, Donn Moomaw of Bel Air Presbyterian Church in Los Angeles, to give both the invocation and the benediction.