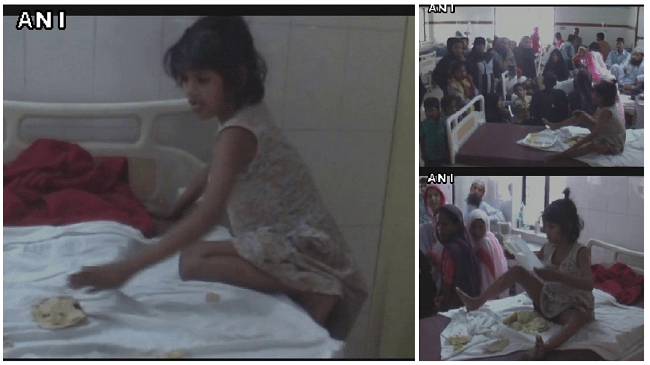 Bahraich: La policía en Uttar Pradesh rescató a una niña que convivía con monos en un bosque en Katarniaghat de Bahraich. La pequeña no puede hablar ni comportarse como ser humano.
Según el subinspector Suresh Yadav, la niña fue vista en la zona de Motipur del santuario de vida silvestre de Katarniaghat.
Durante el rescate, los monos y la niña chillaban y actuaban de la misma manera. Sin embargo, después de algunos intentos, la policía logró rescatar a la niña y esta fue llevada a un hospital de distrito.
Girl found in Katarniaghat forests of Uttar Pradesh's Bahraich two months back with habits similar to that of animals. pic.twitter.com/7lQlDYjF6V

— ANI UP (@ANINewsUP) 6 de abril de 2017
Los médicos que la tratan dicen que la niña parece haber vivido con los monos durante mucho tiempo. También dijeron que la niña no puede hablar ni comportarse como un ser humano, y que hasta a veces camina a cuatro patas. Añadieron que con frecuencia se vuelve violenta y se asusta cuando alguien se le acerca a ella.
"La niña fue encontrada hace dos meses, come y camina como un primate y huye al ver a los humanos", dijo el jefe médico D K Singh.
"Ella tiene marcas en su piel, parece que ha vivido con los animales desde hace bastante tiempo. Ahora está mejor y saludable, mostrando mejoría", añadió.
OTROS ESTÁN LEYENDO:
-50 famosos que bajaron de peso drásticamente
-La otra mujer, reflexíón
-Niño de 11 años se ahorca por una broma de su novia en las redes sociales