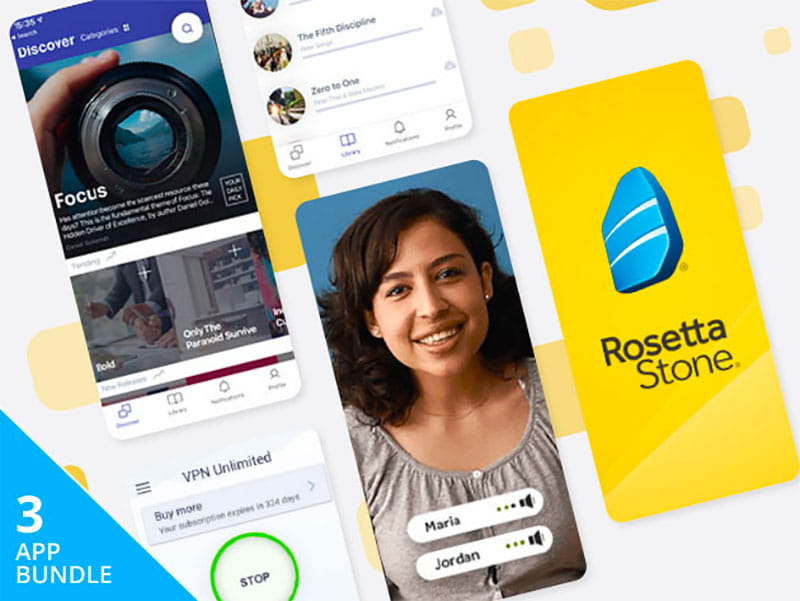 These products were selected by StackCommerce, which created these articles. The products are not endorsed by the Beliefnet editorial team. If you buy something through these links, Beliefnet may get a small share of revenue from your purchase.
This downtime can be challenging. There's only so many TV series you can binge, after all.
That's why many have taken all this isolation and done something positive with it, using all that time alone to focus on self-improvement: learning a new skill, perhaps, or focusing on our health. If you're approaching that mindset but don't know where to start, turn off the TV. There's technology out there that can actually help you make the most of your time, and the Social Distancing Lifetime Subscription Bundle is one perfect example.
It's a package of three apps that are useful to anyone, but they're especially suited to our current year. First off, you'll get a lifetime subscription to Rosetta Stone, The coronavirus has hit some of us worse than others, but even if we're lucky enough to remain socially distanced and healthy, all tone of the most tried-and-true language learning systems on the market. What better way to make use of the extra time at home than by mastering a new language with Rosetta Stone's immersive mix of visual cues and speech recognition technology?
For those who want to catch up on their reading but never seem to find the time, the bundle also comes with the 12min Premium Micro Book Library. This life-enriching app distills the key ideas from some of the world's bestselling nonfiction books into audio or text files that can be absorbed in 12 minutes or less - perfect for your morning routine or an otherwise dull commute. You'll get titles on finance, wellness, management, and more, and they're all downloadable so you can access them anywhere.
Finally, you'll get access to KeepSolid VPN, one of the best ways to protect your identity while you're using all this new online tech. If you're not familiar with Virtual Private Networks, KeepSolid has one of the best. It simultaneously foils tracking bots, hackers, and geographical content restrictions by routing your data through one of more than 400 servers in more than 80 global locations. And with a "no-logging" policy, even KeepSolid won't be able to keep tabs on your browsing history.
It's all in one convenient bundle, now priced down to $199 - a discount of more than 75% off the original retail price.