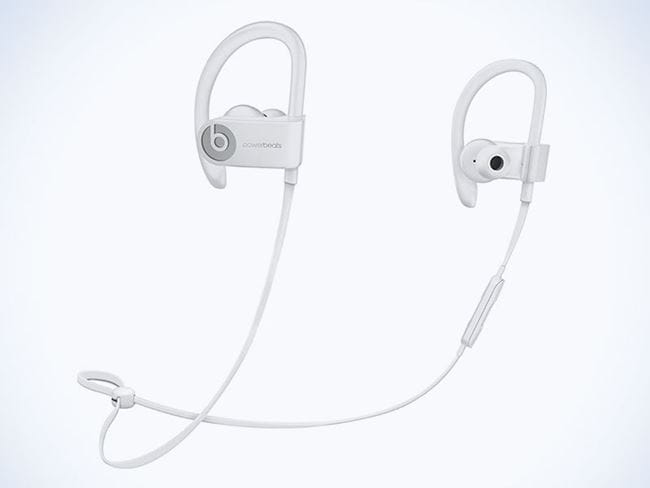 Apple
These products were selected by StackCommerce, which created these articles. The products are not endorsed by the Beliefnet editorial team. If you buy something through these links, Beliefnet may get a small share of revenue from your purchase.
From work calls to working out, a pair of wireless headphones go a long way. Being able to go cord-free is extremely convenient, so if you haven't jumped on the bandwagon yet, perhaps this is the day. In fact, there's no better time to start as Apple Powerbeats3 Wireless Earphones in white, violet, and indigo are all on sale.
First things first, Apple's Powerbeats3 are designed with impressive Bluetooth technology that can easily pair to any iOS or Android device. It won't lose charge quickly either as the earphones boast a long battery life of up to 12 hours, so you'll be free to use them throughout your workday and afterwards when you're ready to work out or relax.
Moreover, the earbuds feature an ergonomic design that provides clear, dynamic sound powered by dual-driver acoustics. Beyond sound quality, its ear tips also deliver a personalized, comfortable fit that isn't as good as similar products on the market. Alongside the tips, the headphones include secure-fit ear hooks to guarantee stability and to ensure the earpieces stay in place.
Of course, that's not all. One of the earphones' best qualities is its fast fuel charge, which was made for anyone who always forgets to charge their electronics. With fast fuel, a quick five-minute charge of the Powerbeats3 will get you at least one hour of playback.
All in all, however you decide to use them, the Apple Powerbeats3 Wireless Earphones are a solid Bluetooth option that's worth its low sale price. Before the deal, customers were originally paying $129, but you can snag a pair today for 40% off, which drops the price all the way down to just $77.99. Think about it, if you use them on a daily basis, these handy earphones will definitely pay for themselves in no time.