His name is Tom Ziemann (pronounced "Zee – Man"). I'm not exactly sure when we met. I do know, however, how we met. It was on Facebook. When? Maybe a couple of years ago, but that's about all I can say.
When I think of all the people I've met – amazing people – on what my mother-in-law calls "the Facebook," I am grateful. Many of them, like Tom Ziemann, were raised, as I was raised, Christian. Today, however, many of them are still Christian but they have embraced, as I have embraced, an openness to interfaith spirituality.
As I write this, I do not yet know where author Tom Ziemann might be with regard to his faith positions. I'll learn, as you will learn, during the interview. What I do know is that he embraces an interfaith spirituality, as many do today. This is hardly surprising to those of you who follow my blogs and are familiar with Interfaith Spirituality Pendants
I am more Christian today than I have ever been. I am more deeply committed to Christ than at any other time in my life. Yet, I am increasingly aware there has only ever been one spiritual truth, experienced and expressed in a variety of different ways, idioms, cultures, and contexts.
I suspect I will find the same to be true of Tom Ziemann.
What I do know is that I have made many friends from literally around the world via Facebook. While many of them I would not likely recognize if I met them on the street, I am richer as a person for having crossed paths with them on this brief journey through life.
I suspect I'm going to feel the same about Tom Ziemann during the interview.
Unquestionably, Tom Ziemann is one of those for whom I am grateful to God our paths crossed. No mistake in any of that. I stopped questioning a long time ago – at least I think I have – whether the persons we meet, and the varied ways in which we meet them, is part of a divine destiny. I'm not saying it is. I'm admitting instead that I do not know. I just don't question it anymore.
But do I enjoy it?
You bet I do.
Tom Ziemann is a self-described layman. He's a terrific author. He is a mature person in interfaith spirituality and he possesses a depth of spirituality many self-described clergy persons never seem to either appreciate or possess.
He's friendly, too. I am guessing this will come across in the interview just as he does on Facebook. Finally, he is a very talented, gifted artist as well. Go here and you'll see what I'm talking about.
But it's this book he wrote that has captured my attention.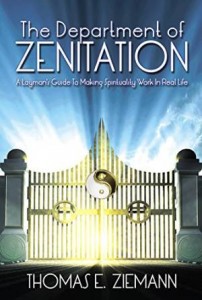 The Department of Zenitation: A Layman's Guide to Making Spirituality Work in Real Life.
It's terrific. Full of insight and spiritual guidance. It's interfaith in nature, drawing from the many wells of spiritual insight found among the world's great faith traditions.
Interfaith Spirituality: It Works in Real Life
I am so impressed by him and by this book and I highly recommend it. I have this feeling you'll be purchasing his book and visiting his website just as soon as you hear him speak and respond to my questions in this brief interview. Check him out. Check out his book. Visit his website. Observe his artistic skill. And, enjoy going deeper in your own spiritual walk.
There are 160+ interfaith spirituality devotions inside this book. I regularly read one or more at the start of a new day. I find great inspiration in the things Ziemann shares. I think you will, too.
Enjoy the interview. Then, get your copy of his interfaith spirituality book: The Department of Zenitation: A Layman's Guide to Making Spirituality Work in Real Life