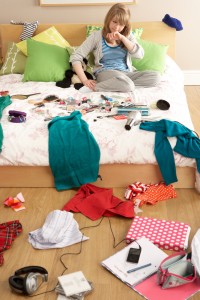 Parenting is a great way for people to learn about themselves as well as their children. You can have the greatest intentions in regard to raising your kids to be positive, that you will never raise your voice, and that you will trust them to make their own choices. The Universe might have a funny way of testing your resolve.
Keeping a room clean may seem like an insignificant habit, but it is something that most parents run up against at some point with their children. You want your children to be independent, to make their own decisions, and establish their own routines, but sometimes it can feel challenging. After all, how can you trust your children to run their lives when they can't even keep their room clean?
As good as your intentions are, most parents will encounter some habits that are harder to ignore than others. I wondered how my children could live in chaos. For other parents, it may be their children's tendency to procrastinate regarding their homework or chores.
When you notice your displeasure with how your children are behaving, it is time for you to take a step back. Even if you don't say a word to your kids, they will feel your displeasure and they will get the message that you do not actually trust them to manage their lives.
How does a parent turn situations like this around so everyone feels good?
The first step is to stop pushing against it. Are you going to change the situation by arguing about it or by getting upset? Probably not. By placing so much attention and energy on what you do not want, the Law of Attraction is actually causing you to actually attract more of what you do not want.
Instead of pushing against it, turn towards what you do want. Focus on your vibration, and do what you need to do to shift how you're feeling, from disapproval to love and trust. Your kids will feel the shift.
This doesn't mean that they will instantly turn their rooms into looking like a spread in Better Homes and Garden, but it will make for a happier and healthier home life for both kids and parents.
Sometimes the solutions are easy. Sometimes they require discussion. In your case, maybe you simply ask the kids to keep their doors closed and stay out. Sounds simplistic, but it works. Over time, the issue fades in importance and your attitude will shift.
What habits does your child have that are driving you crazy? If you find yourself stressed out, wasting time and energy, wishing they would do things differently, take a minute and recognize what you are really asking for. This is a request that your children be more like you and behave as you want them to, rather than listening to their Internal Guidance Systems.
Allowing your children to develop into their own unique beings can be a challenge. Sometimes you just have to stay out of the way — literally or symbolically — and let them be. When you do, they can feel your love and trust. They will in turn, trust their Internal Guidance Systems as they grow into independent, mature, and loving adults.
What do you think?
© 2014. Sharon Ballantine. All Rights Reserved.