Baby news is very exciting!!! Mothers are usually about to pop with excitement.
Recently, my husband and I received great news. I am 2 months pregnant! I wanted to tell my family and friends in a cool way. Of course I pintrested baby announcement ideas and found dozens of cute ways to say "we're expecting." Some expecting parents stood by signs that said "Bump Ahead", others took pictures of the mommy's belly with their hands shaping a heart and others simply took a picture of the first ultra sound.
I decided to incorporate all of those ideas and I got creative. This is what I came up with: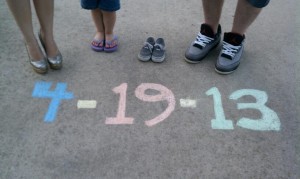 This is a very easy DIY project. My daughter and I drew and colored the baby's due date in our driveway. Then I got someone to take the picture and ta-da. I am known for wearing my tall pumps, so I decided to add some uniqueness to my photo.
This photo will make a wonderful addition my baby's scrapbook and was a fun way to tell my friends and family about our new addition. If you know anyone who's expecting, encourage them to announce their bundle of joy in a fun way. It's a great way to make memories and have fun.
Feel free to email me at aguzman@beliefnetstaff.com with your fun baby announcement photos and comments.