I went on my weekly grocery shopping trip and this is how I came out.
1st Order: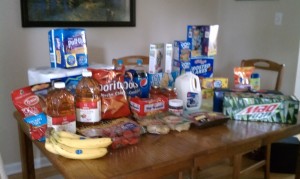 Retail Cost: $168.49
Total Paid: $80.43 / Total Savings: $88.06 = 52%
Items Included: 1 jar of Nutella, 6 boxes of fruit snacks, 2 bags of Doritos, 2 8pks of Sparkle paper towels, 1 pk Huggies Pull-Ups, 1 pk of Tide Detergent Pods, 3 boxes of Pop Tarts, 1 box Frosted Flakes, 1 5pk of Ramen Noodles, 2 bottles of apple juice, 2 jars of spaghetti sauce, 1 pk of Poise items, 1 3 pk of Gillette razors, 1 bottle of White Rain Kids shampoo, 1 bottle Garnier shampoo, 3 lb of meat for roast, 2 pks of Buitoni Ravioli, 1 lb bananas, 1 pt of strawberries, 1 pk Tyson chicken patties, 1 Red Baron Pizza, 1 gallon of milk, 2 Next Pepsi 2 Liters, and 2 12 pk of Pepsi products.
2nd Order:
(It's not necessary to do multiple orders but I had some free time and wanted to take advantage of some deals to add to my stock pile.)
Retail Cost: $50.12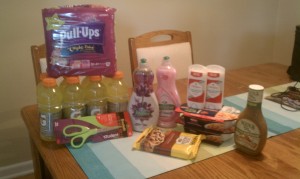 Total Paid: $19.88 / Total Savings: $30.24 = 60%
Items Included: 2 bottles Palmolive Dish Soap, 1 pk Huggies Pull-ups, 1 Bottle Ken Marinade, 1 8pk of Gatorade, 2 Barilla Pasta Lunch Meals, 2 Old Spice Deodorants, 1 pr of Scotch Scissors,
Things That I Kept In Mind During My Shopping Trip:
Remember the upcoming events or holidays. I stocked up on fruit snacks because the shelf life is a year and they make great treats for Halloween and/or Christmas goodie bags for my daughter's class.
I got a pair of scissors because with my coupon I didn't pay anything. Now I can donate the scissors to a local school supply drive for a needy child.
Many of you may have toddlers and know how expensive Pull-Ups can be. With the sale and coupon that I had, I paid $2.99 per pack. (43% savings / literally 3 packs for the price of 1)
My daughter likes to bake and the pre-made Nestle Toll House cookies are a great way for her to have fun and they make a good snack for movie night. The cookies were on sale for 2.00 and my coupon made it 50 cents. Cheap and tasty fun!
The key to couponing is to create a stockpile that suits your needs. Don't go overboard and only buy things that you will use. In the long run, you will save a lot of money and time on preparing for an event and/or holiday.
If you have coupon questions or comments about my blog, feel free to email me at aguzman@beliefnetstaff.com