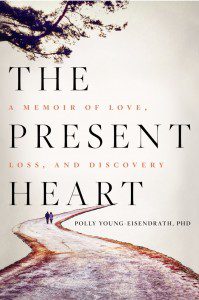 Polly Young-Eisendrath has a new book out, her fourteenth. This is a book like no other that I've ever read. It is a memoir and it recounts events that I lived through as dharma friends of Polly and the love of her life, Ed Epstein.
The Present Heart is a statement on the nature of love. It defines love, perhaps in a way that you've never seen before–or even considered. Along with this definition it provides a story of how she came to this understanding of love. This story is compelling, heart wrenching, and transparent.
It took courage for Polly to live through the events she recounts and perhaps even more courage to tell this story to the reading public. Because I know Polly and Ed, it is hard for me to view these revelations objectively. I've heard most of the stories, yet to read about them is, at times, shocking, soothing, and inspiring.
Ed developed early onset Alzheimer's disease. He started to show signs of demise while in his fifties and his decline was rapid and tragic. Polly reveals the challenges of taking care of Ed, managing this disastrous situation, and taking care of herself all the while remaining open and committed to love.
Given her experience of losing Ed as her mutual loving partner (his cognitive deficits prohibit mutuality but still allow affection), she has an experiential perspective on what is true love. She also talks with experts on love, loss, and relationship and includes their perspectives. As well, as a long term practitioner of Buddhist traditions she weaves in these perspectives, including the role for mindfulness.
While love may include passion, cherishment, and devotion, true love is not reached by these. True love requires mutual knowledge and interest of the other. Like mindfulness, the interest and knowledge accrue from a non-judgmental attention to the present moment or as her title suggests, the present heart. Love must be particular. Being in love is not a recipe for unremitting harmony. True love requires vulnerability (again mutual) and being vulnerable makes us, well, vulnerable to hurt, disappointment, and misunderstanding.
The Present Heart is a confession as well as a manifesto on love. Polly's behavior chafed against the expectations of some people close in her circle of friends. Again, it took courage for her to make the choices she mades and she provides her rationale for these in the book. These reasons are not offered as apologia but rather contextualized in the circumstances of her life. She chooses to be self-preserving yet fully devoted to Ed. This takes guts.
As a witness to these events, reading the Present Heart makes me more appreciative of Polly's compassion. It also breaks my heart again to read the details of Ed's demise. As Polly explains in loving detail, Ed was an exceptionally warm human being. A big bear of a man who loved to hug, Ed embraces Buddhanature and did so more and more as he lost his cognitive capacities and along with them the capacity to experience anxiety and self-doubt. Dementia released Ed in this way as it imprisoned him in many others.
I recommend The Present Heart to anyone interested in exploring the true nature of love, who is challenged in a care-taking situation, or wants to read an memoir about two exceptional human beings. Polly's view of love challenges the cultural myth of idealized love. The violins, fireworks, and sense of union must give way to a real conversation, based in vulnerability, where each person is committed to knowing the other in their particularity. This commitment cannot take place without a concurrent commitment to knowing oneself and using the relationship as the fulcrum to that self-knowledge. Mindfulness practice can facilitate this intimacy but does not guarantee it. The Present Heart is raw, bold, and compelling like jumping in a cold body of water. It braces and wakes you up to the present moment.