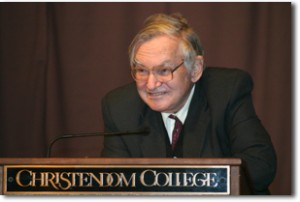 Dr. Warren Carroll, the founder of Christendom College and the author of many influential books on Catholicism passed away on Sunday.
During the period when almost all the nation's Catholic colleges and universities were losing their religious identity, Dr. Carroll took the bold step of founding an entirely new institution in Front Royal, VA, Christendom College which he led as president from 1977 to 1985.
A convert to the Catholic faith in 1968, Dr. Carroll received his Ph.D. in history from Columbia University.
Prior to his academic career, Dr. Carroll was a Communist propaganda analyst for the Central Intelligence Agency. His Seventy Years of the Communist Revolution (updated and re-released as The Rise and Fall of the Communist Revolution) was a product of those years.
Among Dr. Carroll's many books include a six-volume history of Christendom, Our Lady of Guadalupe and the Conquest of Darkness, The Guillotine & the Cross, Isabel of Spain: The Catholic Queen, and The Last Crusade.  This profile of Dr. Carroll from the Christendom College web site provides a complete bibliography.
But Dr. Warren Carroll's greatest legacy will not be his prodigious record as an author, but the lives of the thousands of men and women who have either worked, taught, or graduated from Christendom College.  These men and women have gone on to serve the Church in extraordinary ways, from entering the priesthood and the religious life, to careers in education, journalism, politics, and business.
Even more, however, the families of Christendom graduates have become beacons of joyful orthodoxy across the country but especially in Northern Virginia and the metropolitan area of Washington, DC.
Dr. Carroll is survived by his wife Anne, herself a noted author and founder of Seton Home Study School and Seton Junior & Senior High School in Manassas, Virginia.
The Church owes both Dr. Carroll, and his wife Anne, an immense debt of gratitude.
Requiescat in pace!