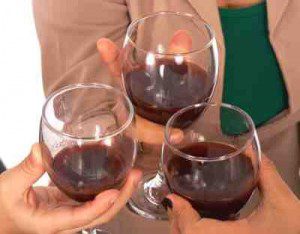 In the past few years we have heard about the benefits of having a little alcohol (e.g., red wine), but a new report says the downside of alcohol outweighs the benefits. And certainly we know how easily alcohol can be abused. But you may be surprised to hear about the link of alcohol usage to cancer.
A 2014 World Cancer Report (WCR) issued by the World Health Organization's International Agency for Research on Cancer (IARC) concluded that no amount of alcohol is safe when it comes to cancer risk. In fact, in 1988 the IARC declared alcohol a carcinogen (ethanol being one of the most important carcinogens) because of its relationship to several cancers.
The report further stated that the more alcohol one drinks, the more at risk a person is to develop cancer. Specifically there is a causal relationship between alcohol consumption and cancers of the mouth, pharynx, larynx, esophagus, colon-rectum, liver and female breast. Pancreatic cancer and alcohol consumption have a significant relationship as well. And others links have been found with leukemia, multiple myeloma, cancers of the cervix, vulva, vagina and skin. Those links need more study.
When it comes to light drinking, the conclusions are dismal as well. A meta-analysis of 222 studies that included 92,000 light drinkers and 60,000 nondrinkers showed risk for oropharyngeal cancer, esophageal sqamous cell carcinoma and female breast cancer. But note that these data are based on peoples' self-report of drinking, which we know tends to be under reported when asked about alcohol use. This might means that "light" drinkers could actually be moderate drinkers.
Add smoking to the drinking and you have a dangerous combination.
So you might be thinking more about the cardioprotective effect we hear so much about with light and moderate drinking. If you look carefully at those studies, you see that the light to moderate drinking lowers your risk for diabetes, stroke, and heart failure compared to excessive consumption. And the pattern of light to moderate drinking has to be consistent, not episodic, or "binge" drinking. This is not exactly a pass for light to moderate drinking.
Bottom line: Alcohol has more negative than positive effects. You can lower your risk by drinking less or not at all. The results of the study do not support any guidelines for safe drinking.
Source: Rehm J, Shield K. Alcohol consumption. In: Stewart BW, Wild CB, eds. World Cancer Report 2014. Lyon, France: International Agency for Research on Cancer; 2014.