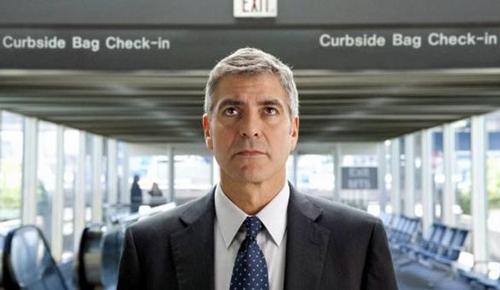 I must confess that I like many of George Clooney's movies. He is a fine actor, and has played a huge array of parts from the comic to the tragic and everything imaginable in between. Some of my very favorite movies of recent years, like O Brother Where Art Thou? are not merely Clooney movies, but are movies where this Kentucky boy stars.
Such a movie is 'Up in the Air'. Let's be clear from the outset that this is not a feel good movie, but it is also not a total downer either. It is more, what shall we say, a philosophical reflection on life. 'Up in Air' in one hour and 49 minutes provides fair commentary not merely on life on the road, but a life of detachment, where there is nothing permanent but the job. And what a job it is—- George plays Ryan Bingham the smiling terminator, the man hired by companies too timid to do their own firing of long time employees. But of course the movie is also based on irony– because even the terminator can be terminated, and the ultimate humiliation is he can be terminated by a fresh out of college girl who knows how to set up a computer network that terminates people remotely.But I digress.
Let's think for a moment about synonyms for 'up in the air'– how about left hanging, detached, uninvolved, distant, undecided, undetermined, uncommitted. Our man Ryan is a man who knows how to end other people's life work, but not how to either 'get a life' or 'have a life' or start something of lasting value. What substitutes for a life is frequent flyer miles, hotel perks, upgrades, and the like. And then suddenly, our man George meets his female alter ego. A working girl about his age, played brilliantly by Vera Farmiga. And lo and behold— Mr. Detached Traveling Work-junkie begins to fall for Ms. Detached Traveling Work-junkie. In a telling seen they flirt and do one upsmanship over who's got the most perks, concierge cards, miles. Ryan even has a goal— getting 10 million miles on American airlines and its partners. Wow— in one year he even flew 350,000. This makes my 50 or so flights a year look like chump change. As Ryan so ably puts it— the moon is only 250,000 miles away.
This movie is an excellent commentary on the meaninglessness of life
without meaningful relationships, including intimate ones. It is rated
R for some language, particularly at the beginning of the film, and one
scene with partial nudity. It is of course not a movie to take
children to. But what it is, is an excellent conversation starter for
a discussion about what matters in life, what is important in life,
what is the meaning of life.
So what is life like for a person whose life is constantly 'up in the air'. Well it lacks oxygen, substance, meaning— to say the least. Perhaps the most tragic and hilarious scene in the movie is where Ryan tries to give his future brother-in-law reasons to go through with marrying his sister. Yes, Ryan is a motivational speaker on the side, but a match-maker— not so much. And yet somehow he persuades his future brother in law to do what he has never tried, attempted, or really wanted to do— commit himself to a woman for life. That is…. until Ms. Detached comes along. And when suddenly he wants to become Mr. Attached….. well, he's in for a surprise, and so are you. I won't spoil it. I'll leave you up in the air….