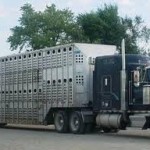 I have a complicated relationship w/ vegetarianism. I've been vegetarian at several times during my life, sometimes for as long as a year or more. But my best beloved is a die-hard meat eater (Lady GaGa is lucky there wasn't a grill nearby, is all I can say), and he is my best beloved.
Pretty  much I gave up complete vegetarianism when I had my first child (who's getting married next month to a wonderful woman — that's another story…:)). It was too hard, and I had too many other things on my mind.
But I've always felt there's too much death in the world to contribute more than I need to. I don't eat huge quantities of meat, and I'm careful to buy only from sources I know: humanely raised, organic and/or local.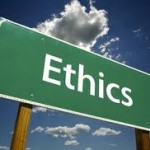 Still, there's no getting around the fact that meat means a conscious being — an animal w/ a life — died to feed me. And I go back & forth on that sacrifice, and its relevance to beginner's heart.
Don't get me wrong: I have no problems w/ anyone else eating meat. It's almost as personal a decision as who you love :). Besides, I agree w/ Barbara Kingsolver, in her wonderful book Animal, Vegetable, Miracle: she argues that domestic livestock — cattle, pigs and most sheep — won't last very long in a vegetarian culture. Sheep fare best, as they offer wool. But pigs & cattle? They eat too much for most folks to keep them as pets. Their entire raison d'être is as food. So I'm still ambivalent about no meat at all.
But I know there won't be pork any more. At least not for a long long time. The universe (and a hundred+ fearful little piggy faces) has spoken…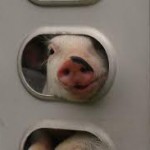 See the livestock truck above? Imagine each of the perforations framing a piggy face, like the one on the left. Imagine the little pinky-white snouts pushed all the way through the round 'windows,' and ears flying in the wind created by 80 mph highway speeds. Young Yorkshires or American Landraces or Chester Whites — as smart as dogs, pigs are. and obviously frantic…
Now put yourself in my little blue car, pacing the pig truck for miles — more than 50 of them. Watching as the squealing, terrified pigs stuck their noses and ears and rumps against the metal walls of the truck, jostled by speed and each other.
One of those memorable moments when you can't help but think the universe is talking to you. And it's saying — Enough already w/ the pork. Eat more veggies…or fruit.. .or…:)
I hope it waits a bit before I have to cut out chicken…