TRUST, once eroded is sometimes so hard to get back and yet the angels want you to know that it is about you learning to trust you that is the key. You learning to trust in your judgement – all else is just the thoughts and feelings that muddy up the healing process.
"Believe in yourself, and know that the Angels are with you. Ask them to assist you in releasing fears that stand in the way of enjoying full trust in yourself once again."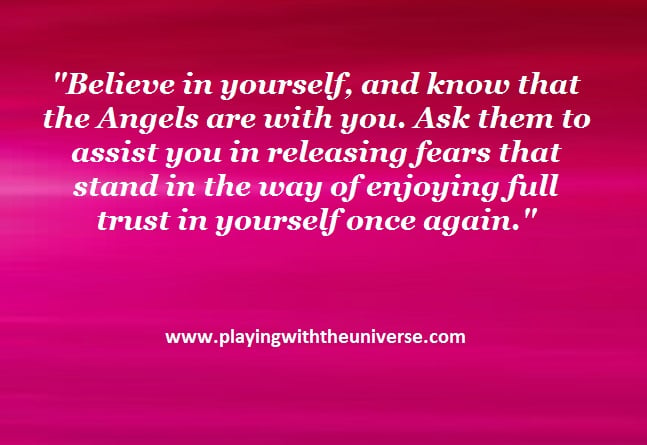 You may have felt disappointed in the past. Felt let down by life and others. These experiences may have eroded your trust in yourself, and other people. However, the angels remind you of the importance of holding on to trust. Learning to trust yourself, the messages you receive and the inner knowing is a vital key to help you to once again know the feeling of enjoying full trust. Take little steps toward this goal at first if you afraid to the take the leap of faith and jump off into the deep end. It is okay to take your time, it is most important that you just keep on moving in a forward motion.
The Angels emphasize the value of self-trust. We know that you, like everyone else, feel you have made mistakes in the past. However, these mistakes have not eroded who you truly are, for truly, there are no such things as mistakes. You are and still have omnipresent creator energy within you. Trust in that, trust in yourself, trust that we are here to give you strength and guidance. Trust that we want to help you to grow and feel the loving support that is being offered to you each and every day and trust yourself.
Tons of love, Sharon and the angels xoxox
www.playingwiththeuniverse.com

Read more: http://www.beliefnet.com/columnists/angelguidance