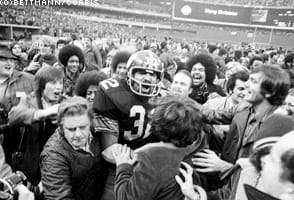 This is the first couple of character of the article body ....
TONIGHT is about the football celebration nobody really ever got last year, the party that always happened somewhere else, somewhere out of town, out of the reach and beyond the voice boxes of the folks who enjoyed January and February the most.
There was something inspiring, and inspired, about the circuitous path to glory the GiantsNew York Giants
traveled, a winding highway through Tampa and Dallas and Green Bay and Phoenix. But there was also something missing because of it.

There was no Giants Stadium moment, no communion of player and fan, no frigid forever afternoon when 80,000 people could see with their naked eyes that something special was unfolding before them. There was the Patriots game that closed out the regular season, but it's worth remembering that for all the feel-good vibes the Giants took out of that game . . . they still lost that game. And blew a lead doing so.

MORE: Complete Giants Coverage

Sure, there was the parade. Yes, there was the gathering at Giants Stadium afterward. That was nice, and it was loud, and it was an appropriately giddy occasion for everyone. But it wasn't a football game. There were no impromptu standing ovations, no wicked chants, no nervous buzz, no explosive, climactic roar at a final gun.

"You can't have everything," Tom Coughlin said a week ago, laughing, understanding the point, and not caring even a little bit. "I think if you ask our players or our fans, would you change one thing about the way things went last January and last February, not one of them would say, 'Well, a home game would have been nice.' "

Understood.

So that's what tonight will be for, when the Redskins visit the Meadowlands for one of the final times, when an old NFC East nemesis helps the Giants greet the new season on a summer Thursday night that, with a little noise and a little imagination, should easily feel like a winter Sunday.

The Lombardi Trophy will be in the house. The players who helped bring it home, most of them anyway, will be there. And the most faithful of all New York fan bases will be there, too. It's been a crazy couple of months if you're a Giants fan, of course. Giants players popped up all over the city for months, cheered everywhere they went, and it was a reminder whenever you saw them of the wonder that filled your heart that first Sunday in February.

But there was also the inevitable mud-in-the-punchbowl moment when the Giants announced personal-seat licenses for their new stadium, when thousands of long-time fans were forced to question at what cost their devotions could be had. There is no right and wrong in that game - fans have every right to be angry, and the Giants had little choice but to keep up with the (Jerry) Joneses. It only complicated what was already a complex tangle of emotions.

But tonight, all of those feelings will be placed somewhere on a shelf. Tonight, the Giants return to the Meadowlands, return to the metropolitan area and for the first time in 17 years they will take the field as champions.

It only seems like that long that they've taken their old home field at all.

"We are certainly not apologizing for anything last year," Coughlin said recently. "Of course, our road run was a great one. We hope we can go ahead and utilize that again and be that successful on the road. But we have to play better at home. Quite frankly, our fans deserve us to play better at home.

"

What the fans deserve is this night, this game, this gathering, this celebration, this moment of reflection and resonance that will fill the swamps of North Jersey and beyond, that will provide, seven months later, that visceral sense of "we're in it together" that was the only thing missing from the script last winter.

What a grand night it will be.