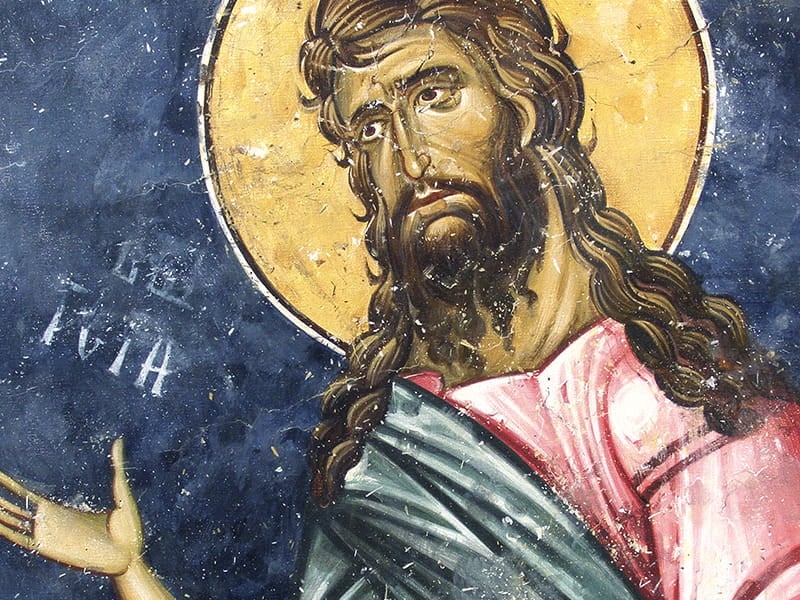 John the Baptist is a prophet and prepared the way for Christ, and preached on repentance. Born in the first century, John baptized, had disciples, and preached in the lower Jordan Valley. He continued to communicate that there was one greater than he.

"He who is coming after me is mightier than I"; this might refer to God himself, a human messiah, or a transcendent divine being. He also says, "I baptize you with water…; he will baptize you with the Holy Spirit and with fire."

John was imprisoned by Herod Antipas, and beheaded after Herod's step-daughter asked for his death.  Here are quotes on and from John the Baptist, who lived on locusts and honey in the desert.  He continues to be a  great presence and source of comfort fro Christians.

"No one can receive anything except what is given him from heaven. You yourselves bear me witness, that I said, I am not the Christ, but I have been sent before him. He who has the bride is the bridegroom; the friend of the bridegroom, who stands and hears him, rejoices greatly at the bridegroom's voice; therefore this joy of mine is now full. He must increase, but I must decrease ( John 3:27-30)."
Luke 1:
"Now the time had come for Elizabeth to give birth, and she gave birth to a son. Her neighbors and her relatives heard that the Lord had displayed His great mercy toward her; and they were rejoicing with her. And it happened that on the eighth day they came to circumcise the child, and they were going to call him Zacharias, after his father.""

Luke 7:24-25: ""When the messengers of John had left, He began to speak to the crowds about John, "What did you go out into the wilderness to see? A reed shaken by the wind? "But what did you go out to see? A man dressed in soft clothing? Those who are splendidly clothed and live in luxury are found in royal palaces!"

Luke 3:7-9: "So he began saying to the crowds who were going out to be baptized by him, "You brood of vipers, who warned you to flee from the wrath to come? "Therefore bear fruits in keeping with repentance, and do not begin to say to yourselves, 'We have Abraham for our father,' for I say to you that from these stones God is able to raise up children to Abraham. "Indeed the axe is already laid at the root of the trees; so every tree that does not bear good fruit is cut down and thrown into the fire."
Mathew 3: ""Then Jerusalem was going out to him, and all Judea and all the district around the Jordan; and they were being baptized by him in the Jordan River, as they confessed their sins."

John 3:23: ""John also was baptizing in Aenon near Salim, because there was much water there; and people were coming and were being baptized.""
Acts 19:4: (Then said Paul), ""John truly baptized with the baptism of repentance, saying to the people, that they should believe on him which should come after him, that is, on Christ Jesus.""

Acts 2: ""Then Peter said to them, Repent, and be baptized every one of you in the name of Jesus Christ for the remission of sins, and you shall receive the gift of the Holy Ghost.""
Luke 7:33: "For John the Baptist has come eating no bread and drinking no wine, and you say, 'He has a demon!'"
Mark 6:20: ""For Herod was afraid of John, knowing that he was a righteous and holy man, and he kept him safe.
And when he 
heard him, he was very perplexed; but he used to enjoy listening to him.""