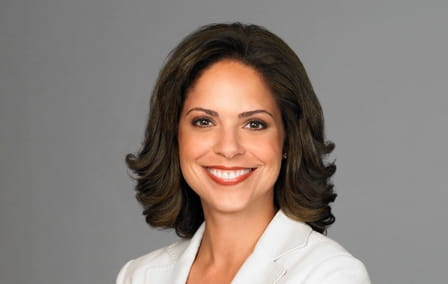 She's a celebrated broadcast journalist known for her in-depth human interest documentaries such as CNN's Black in America and Latino in America. Beliefnet spoke with Soledad O'Brien about her upcoming talk at the Newark Peace Education Summit.
Q. What does it mean to you to be a part of the Newark Peace Education Summit?
A. I was thrilled to be asked. Anything with the Dalai Lama attending and someone like Mayor Corey Booker – sort of a nice group of people to be asked to participate with. The connection is our new documentary, Don't Fail Me, which takes a look at the crisis of education in America. I'm hopeful that I'll get a chance to talk about some of the things that I think to be solutions to not only improve educational opportunities for young people, but by extension, reduce poverty, decrease violence and increase peace.
Q. You're a success at CNN and in your field of journalism. How did your education play into that?
A. It's everything and not just my formal education. I went to high school and then on to college, but a lot of my job is about being educated. It's about reading, learning and discovering new things. The only way to get new experiences and to grow is to be educated by exposure. It's so crucial. The more you can be exposed and the more you can be educated, the more you see opportunity in your life and the more you see chances to do something else and different versions of what an end outcome can be. All those things lead to more peaceful solutions. People who are desperate and hopeless look at violence as the way out, and I think anybody who sees opportunity doesn't.

Q. Many people would not associate the media as being peacemakers. Perhaps the media could even be called instigators. How do you make peace a part of your job?
A. I don't think the media are instigators; I think in some ways we often play a role of not doing anything. One of the nice things about doing documentaries is that you get to camp out on a story for nine months to a year as I do and tell a fully fleshed out story. There's a lot of power in that. You get a better understanding to all sides, which ultimately is how you get to peace. Everybody gets their say. It's not one side saying, 'I'm right and I'm not going to listen to the other side.' It's about trying to forge a common ground and an understanding of the issues to get to a resolution. I think education and thoughtful discussion, which is hopefully what our documentaries can bring about, are the first steps to people saying, 'I disagree with you, but I hear you.'
I also believe, especially when it comes to education, all sides want the same thing. There's no one who's advocating for worse education for any child. There's nobody who's advocating for more poverty. So we're all on the same side in the big picture. The question becomes how do you get there.
Q. The Black in America series that you did for CNN touched a lot of people. What did you learn from it?
A. We had just scratched the surface. There were dozens and dozens of great stories to tell. We discovered we should be doing this all the time. People were fascinated by great storytelling about populations where the stories fly under the radar. That was the start of "In America". The greatest irony is that as I was asked to drill down into diversity issues – which in journalism is this woefully underappreciated small corner of the world – now I'm telling everybody's story. We'll do a documentary on women who were rescue workers in 9/11, miners in West Virginia, Latinos... By drilling down we start telling the story of all Americans. We're a very diverse nation, and all of our stories are worth telling. People identify with those stories even if they're not the same racial, ethnic, socio-economic background as the person who's being profiled. It's what understanding humanity is all about. We have this shared humanity that makes everyone else's story interesting to us.

Q. You've also highlighted the private writings of Martin Luther King, Jr., in your career. I interviewed his son, and he said was that King was so much more than just a civil rights leader.
A. The greatest thing for me is here's a regular man who ended up the voice of articulating an entire movement. He wasn't chosen because he was the greatest. He was chosen because he was noncontroversial. He took a moment and leveraged that moment. Instead of turning and running, he said, 'I'm going to stand and be the voice of something.' We can all do that. Take a moment to say, 'I'm standing up for education. I'm standing up for kids in poverty. I'm standing up for racial reconciliation.' That's the lesson to learn from him, not that he was just this remarkable speaker and writer. He was a guy who, in a bad situation, didn't run.