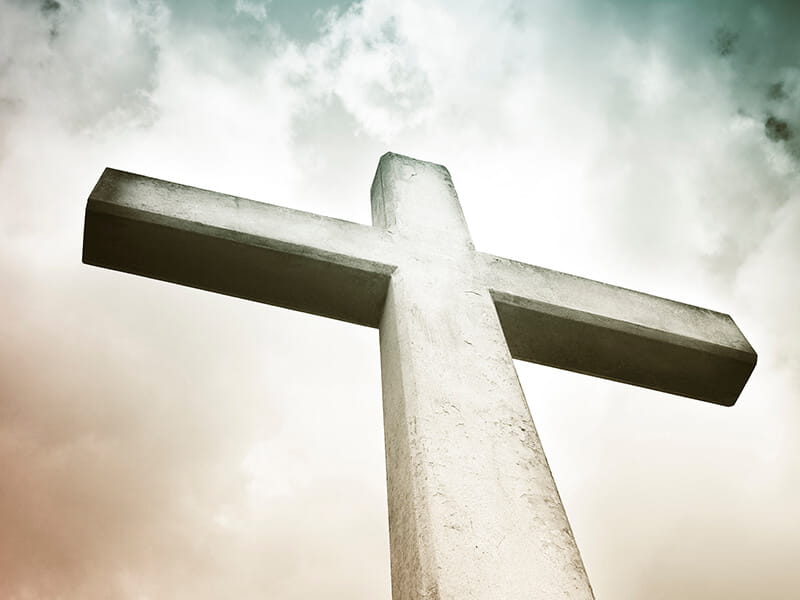 For many Christians our relationship with God is fundamentally flawed because the way we see Him is wrong. If it makes you feel any better, sin has been twisting and corrupting humankind's relationship with God since the very beginning. If we were honest, many of us struggle in our relationship with God. Deep down, we're convinced He's disappointed in us. We've broken promises to God, to others, even to ourselves. Maybe we're ashamed when we look in the mirror and we're convinced that God is too. If we've given up on ourselves, why should we believe that God sees us any differently? Too many Christians walk around with this lingering sense that God is angry or disappointed in them, that we need to work a little bit harder to appease Him or get back into His good graces.

One of the primary things Jesus of Nazareth did when he walked this earth was he reintroduced us to God. He taught us a way to interact with God that was designed to revolutionize the way we see Him. It's a way to that we need to be reminded of today. When Jesus spoke of God in the pages of Scripture, the primary way Jesus referred to God was as our heavenly "Father". For instance, at the beginning of the famous Lord's Prayer, Jesus starts by saying, "Our Father in heaven . . ." (Matthew 6:9).

But that's where everything goes sideways. Depending on your relationship (or lack of a relationship) with your earthly father, the most important way we are to interact with our Heavenly Father can be skewed or twisted. If you're looking for a new way to look at God or if you're looking for a way to see God as your perfect and loving Heavenly Father, consider these six words, which will spell out the word "father."
F - For Me
If you think God is against you, then you've got the wrong idea about God. God is for you. God doesn't love you because you're good. God loves you because your His, in the same way you don't love your child because of what they can do for you. You love your child simply for existing. By you drawing breath, you've already earned the overwhelming love of your Heavenly Father, the love that would ultimately send Jesus to a cross to die for you. A good Bible verse that champions this is Romans 8:31, which says "If God is for us, who can be against us?"
A - Almighty
No matter how big your problems are, God is bigger. It's as simple as that. Just as a toddler looks to their dad and assumes that dad can do anything, so our Heavenly Father can truly do anything. After thousands of years of recorded human history we have barely begun to even glimpse into the depths of the cosmos, and yet God spoke the universe into being with a simple spoken word. God is almighty. No matter what problem you bring to God, God is bigger.

"Now to him who is able to do immeasurably more than all we ask or imagine, according to his power that is at work within us, to him be glory in the church and in Christ Jesus throughout all generations, for ever and ever! Amen." Ephesians 3:20-21
T - Tender
Just because God is almighty doesn't mean that He isn't caring and kind. God is tender. Consider the maternal language Jesus used when speaking about the city of Jerusalem, "Jerusalem, Jerusalem, you who kill the prophets and stone those sent to you, how often I have longed to gather your children together, as a hen gathers her chicks under her wings, and you were not willing." Matthew 23:37

Even the strongest, manliest man will melt like ice cream on a warm day when holding his newborn child for the first time. God cares for you like a parent holding a newborn. God is tender.
H - Home
There truly is no place like home. After a long business trip or even a vacation, there is something serenely settling about walking through the threshold of your own front door. You don't have to pretend when you're at home. You can be authentic. You can be you. God is home. You can be yourself. No formality needed. Just be yourself. There's nothing like being home in God's presence.

Jesus said, "Anyone who loves me will obey my teaching. My Father will love them, and we will come to them and make our home with them. John 14:23
E - Enough
We don't need to pursue God because of what we think we'll receive from Him. God Himself is enough for us. Simply being with God, the privilege of being in the presence of our Maker is all the reward we should seek for, in the same way a child doesn't want gifts from their father so much as they simply want their father. We need to constantly lift our eyes up from the gift to the Giver, from the blessing to the Blesser, from the reward to the Rewarder.

As God Himself said so long ago, "Do not be afraid, Abram. I am your shield, your very great reward." Genesis 15:1
R- Rejoicing
This brings us right back around to the beginning, altering the fundamental way many of us interact with God. God isn't angry with you. God isn't disappointed, in fact it's just the opposite. Think of it this way: If there is a fridge in heaven, your artwork is stuck all over it. God wears out the angels in heaven bragging on you. "Look at John! He's finally asking someone for help with his addiction! That's such a huge step for him! Look at Karen! After years of saying no, she's going on her first mission trip. I'm so proud of her!"

God rejoices over you. Why? Because God is your loving, perfect Heavenly Father. "As a young man marries a young woman, so will your Builder marry you; as a bridegroom rejoices over his bride, so will your God rejoice over you." Isaiah 62:5

So if you're looking for a new way to look at God, consider these six words that can change the way you interact with God forever. God is For me, God is Almighty, God is Tender, God is Home, God is Enough, God is Rejoicing. God is your perfect, loving Heavenly Father, and He's looking forward to spending time with you today!