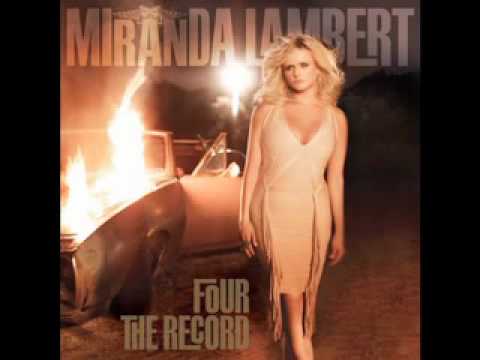 SAFE- Lyrics- Miranda Lambert
Just like the fringe on my boots
You move with every step I take
You walk in front of me to make sure
That I don't fall and break my own heart
Cause with you I could never
Just like the leather on my saddle
We get prettier with time
Together in the weather
Shiny on the other side
Polished and changed for the better
With you I'm safe
With you I'm safe
I follow you just like a shadow
Only closer and
If you get tied and bound
I'll find a way to free your hands
I'll wash them clean
Of everything but me
Sometimes you might get thirsty
So I'll catch the rain
Just like the ice in your glass
I'll rattle when you need a drink
You'll never run dry of love or anything
I'll keep you safe
I'll keep you safe
I'll keep you safe
I keep a locket on my neck that holds your face
I'll spend forever making sure I can erase
Every tear you ever thought about crying
You make me feel like I'm the only girl in the whole wide world
I wanna hold you like a handful of diamonds and pearls
That I guard with my life or die trying
I'll keep you safe
I'll keep you safe
I'll keep you safe
Intimate relationships are built on the foundation of emotional security- which means in part that your partner/spouse has your best interest in mind at all times. Emotional security acts as a safety net, a buffer that allows both parties to be real, vulnerable and honest without the constant fear that the bottom will drop out.
A relationship lacking in emotional security leads to heightened fear, insecurity and ultimately a great deal of pain. I want to write from a man's point of view today and will be including some tips from Troy Spry, a certified dating, relationship, and life coach.
1. Passion creates a feeling of security and not just the passion when making love but the passion when holding her or a gentle touch that shows her you are emotionally connected and not just going through the motions. She needs to know she matters to you and that you're not just wanting something from her.
2. Troy says he understands that men are visual creatures but there is a difference between looking and staring or gawking at another woman. A big part in making your partner/wife feel secure comes with how you respect her in public and checking out other women is an easy way to not only in hurting her feelings, but will also make her feel insecure in the relationship. If you do this in front of her, she can only imagine what you are doing when she is not around. You not only chip away at her trust in you but you can damage your own reputation because let's face it, people talk. Most women will agree, the most attractive men are the ones paying attention to their loved ones not everyone else in the room.
3. Your partner and the children come first. This is of utmost importance to women, the more time you are vested in them, the most secure she will feel about you and the relationship. Troy says that watching how you invest your money, time, and energy will make your wife smile with her heart. Don't use your money or time to control but look at it as a way to invest in a healthy family.
4. When you made the commitment to be with just her, she assumed she would not be in competition for you with other women anymore. Troy says, we should continue to do the same things we did in order to "get" our mates. Falling off is not acceptable. She surely does not want to feel the pressure of competing for your time and attention when you flirt with other women. This creates so much disharmony- it not only damages the relationship but it's hard to know what kind of boundaries to establish. You are not protecting her or the relationship from the advances of other women. This will not make her feel secure as well as not trusting you. You are firsthand showing her that you have one foot out the door.
5. Men want to feel appreciated but so do women. Women need to know that you admire her nurturing ways, the kind of mother she is and that you trust her decision making. Don't act as if she is replaceable because this will only cause more strife and hurt her even more. If she is the mother of your children, let her know how special she is in the way she cares for the kids no matter what age they are.
6. Being unfaithful tears down so many of the protective walls of your relationship, but being faithful builds them up and fortifies them. Not allowing other people to enter into your relationship or union and not investing your physical and emotional energy into another lets her know that she can be completely vulnerable to you with her heart, feelings and sexual well being. It is very difficult to bounce back to a healthy relationship when there has been unfaithfulness.
7. Be a man of your word. Do what you say you are going to do and show up when you say you are going to show up. It's very simple. If your words and actions don't align, something is wrong and you are showing her that she is not important enough to you.
8. Take initiative and make decisions. Women do like a decisive man but only one who protects her when making those decisions. Women do want leadership and guidance but that means having her best interest in those decisions. When you can provide that, she will know that she is secure and will trust you more with being the head of the household.
9. Praise her! Praising your partner/spouse in public lets her know that you appreciate her and aren't afraid to profess it to the world. You are letting her as well as other's know you are her biggest fan. If you aren't acknowledging her to other's there is a problem. If you are criticizing her in front of other's or to other's, you will embarrass her as well as cut her down in a way that will make her feel unloved. She will lose trust in you, quickly. No women wants to ever feel that way about her man. Remember your job is too protect her, always!
10.  Being thoughtful and considerate lets her know that you genuinely care. It's not just with gifts on special holidays but also listening to her and letting her know that she is your partner and how she feels is important.
When a woman feels safe, secure, and loved, I believe she will do anything for her man. We reap what we sow, always!
Therefore be imitators of God, as beloved children. And walk in love as Christ loved us and gave himself up for us, a fragrant offering and sacrifice to God. But sexual immorality and all impurity or covetousness must not even be among you, as is proper among saints. Let there be no filthiness nor foolish talk nor crude joking, which are out of place, but instead let there be thanksgiving. For you may be sure of this, that everyone who is sexually immoral or impure. or who covetous ( that is an idolater), has no inheritance in the kingdom of Christ and God. Let no deceive you with empty words, for because of these things the wrath of God comes upon the sons of disobedience. Therefore do not become partners with them; for at one time you were darkness, but now you are a light in the Lord. Walk as children of the light ( for the fruit of the lights found in all that is good and right and true), and try to discern what is pleasing to the Lord. Take no part in the unfruitful works of darkness, but expose them. For it is shameful even to speak of the things they do in secret. But when anything is exposed by the light, it becomes visible, for anything that becomes visible is light. Therefore it says, look carefully then how you walk, not as unwise but as wise, making the best use of your time, because the days are evil. Therefore do not be foolish, but understand what the will of the Lord is.  Eph 5