Unique Space Image of Alabama Tornado Tracks
May 16, 2011: NASA has released a unique satellite image tracing the damage of a monster EF-4 tornado that tore through Tuscaloosa, Alabama, on April 27th. It combines visible and infrared data to reveal damage unseen in conventional photographs.
"This is the first time we've used the ASTER instrument to track the wake of a super-outbreak of tornadoes," says NASA meteorologist Gary Jedlovec of the Marshall Space Flight Center in Huntsville, AL.
An ASTER visible-IR image of tornado damage near Tuscaloosa, AL. [
larger image
]
In the picture, captured just days after the storm, pink represents vegetation and aqua is the absence of vegetation. The tornado ripped up everything in its path, scouring the Earth's surface with its terrible force. The "tearing up" of vegetation makes the tornado's track stand out as a wide swath of aqua.
Read more: http://science.nasa.gov/science-news/science-at-nasa/2011/16may_groundtracks/
Two leading makers of lighting products are showcasing LED bulbs that are bright enough to replace energy-guzzling 100-watt light bulbs set to disappear from stores in January.Their demonstrations at the LightFair trade show in Philadelphia this week mean that brighter LED bulbs will likely go on sale next year, but after a government ban takes effect.The new bulbs will also be expensive – about $50 each – so the development may not prevent consumers from hoarding traditional bulbs.
Click to read More here – the full article.
Excerpt from: http://www.RogerHeadgecock.com (Listen to Roger's talk radio show from link also.)
Picture above of an LED lightbulb: As incandescent light bulbs is outlawed in more and more countries LED is believed the be the future of lamps, as an energy efficient and evironmentally friendly alternative.
Mark Harrington, Executive Director for Created Equal, recalls a message of Dr. Martin Luther King, Jr. at a rally in support of Ohio's heartbeat bill (HB 125): "'Wait' almost always means 'Never.'"
Columbus, OH – May 16, 2011 – THE TIME IS NOW!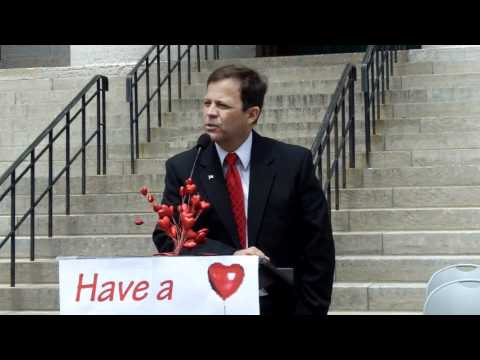 Dr. King said, "We know through painful experience that freedom is never voluntarily given by the oppressor; it must be demanded by the oppressed. Frankly, I have yet to engage in a direct-action campaign that was "well timed"  . . .  For years now I have heard the word "Wait!"  . . . This "Wait" has almost always meant "Never."'
The word "Wait" rings in the ear of every preborn baby and it almost always means "Never."  The time is now to protect the children again.
URGENT! URGENT! URGENT! If you live in Ohio, support the Heartbeat Bill (HB 125).
If you don't live in Ohio, click Heartbeat Bill (HB 125) and start calling and contacting your own state legislators to get similar legislation in your state!
PLEASE CLICK TO HELP GET THIS BILL PASSED IN OHIO!  Heartbeat Bill (HB 125)
Created Equal PO Box 360502 Columbus, OH 43236