WATCHWOMAN WARNING: Please see the other post I made today: Two Very Bad Rulings by Indiana and U.S. Supreme Court that Could Abolish 4th Amendment ▬ Donna Calvin
Roger Hedgecock reports:
Jose Guerena, a former (2002-2006) U.S. Marine, survived two combat tours in Iraq to return to his native Tucson, Az., to start a family.
On May 5, Jose was shot 60 times and killed in his home in front of his wife and their 4-year-old son by five armed men who broke into his home and only later identified themselves as a sheriffs' SWAT unit serving a warrant for drugs. No drugs were found. The Guerenas had no criminal record.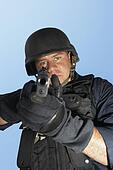 Around 9 a.m., Vanessa Guerena had seen an armed man pointing his rifle at her through the window of her son's bedroom. She yelled "Don't shoot, I have a baby."
The Guerenas live in a neighborhood known for home invasion. Vanessa yelled to awaken her husband who had just gone to sleep after working a 12-hour night shift at the Asarco copper mine. Startled awake, Jose grabbed his AR-15, told his wife to hide with their son in the closet and ran to confront the men crashing through his front door.
The SWAT team fired 71 shots in seven seconds. Deputies claimed that Guerena had fired first, then retracted that when they admitted that Guerena's rifle was on safety and had not been fired.
Read the rest of this deplorable story at World Net Daily: Iraq vet killed by regime at home
"Failure to raise the debt limit would force the United States to default," Treasury Secretary Timothy F. Geithner panted in a May 13 letter to Sen. Michael F. Bennet, Colorado Democrat. "A default would inflict catastrophic, far reaching damage on our nation's economy, significantly reducing growth, and increasing unemployment."
Mr. Geithner's hyperventilation ignores the experiences of millions of Americans who have refused Visa's and MasterCard's offers to boost their credit ceilings. Ignoring one's bills can trigger default; leaving one's borrowing threshold intact does not. Keeping credit lines unchanged is a first step toward spurning further debt. Responsible cardholders will eat at home more often and, perhaps, shop at Joseph A. Bank rather than Hugo Boss. The resulting savings then go straight to debt reduction.
"It's not accurate at all to equate a failure to raise the debt limit with a default on our Treasury obligations," Sen. Patrick J. Toomey, Pennsylvania Republican, tells me. "That's totally false. Tax revenues will be nearly 10 times the amount of money needed to avoid defaulting on our debt."
Indeed, the Congressional Budget Office (CBO) forecasts $2.23 trillion in federal tax revenues for fiscal 2011 and net interest expenses of $213 billion. Mr. Geithner will have plenty to pay bondholders.
"It looks like the dollar is on its way out, gold and silver coins and bars hold their value. Time to buy gold," says a man who studies markets, trends and has invested heavily in gold stocks. This person wishes to remain anonymous, but he sent me this tip for my benefit and so I could send you a WATCHWOMAN'S WARNING. ▬ Donna Calvin
Gold, silver coins to be legal currency in Utah
By JOSH LOFTIN
Associated Press
SALT LAKE CITY (AP) — Utah legislators want to see the dollar regain its former glory, back to the days when one could literally bank on it being "as good as gold."
To make that point, they've turned it around, and made gold as good as cash. Utah became the first state in the country this month to legalize gold and silver coins as currency. The law also will exempt the sale of the coins from state capital gains taxes.
Craig Franco hopes to cash in on it with his Utah Gold and Silver Depository, and he thinks others will soon follow.
The idea is simple: Store your gold and silver coins in a vault, and Franco issues a debit-like card to make purchases backed by your holdings.