Watchwoman's Editorial: A mother, Lindsay Jackson, of a young child, Maddy Verst, causes me to question the term mother??? This term is questionable for the exploiter who is manipulating her little girl for at least 4-5 years in "Toddlers and Tiaras" by putting huge breast and buttock padding on her child to have her perform as Dolly Parton. This stage mother has been entering Maddy into beauty pageants since she was 13 months old! Below is a photo of the exploited child when she was 4. Maddy is now 6. Below is a video of the sexualized child, dressed like a prostitot, as she walks down steps performing as the overly-huge busted Parton.
READ MY RELATED ARTICLE ABOUT BARBIE DOLLS
Draq Queen Barbie (Matell's "PROUD" announcement)
http://blog.beliefnet.com/watchwomanonthewall/?p=19165
▬ Donna Calvin ▬ Tuesday, August 21, 2012
FYI

. . .
Urban Dictionary: prostitots
1. prostitots – Children who dress in revealing, adult type fashion. May include hair and makeup styles that are not age appropriate. Kids who dress like club chicks and whores.
Where does that Prostitot think she's going, school or to the club?
www.urbandictionary.com/define.php?term=prostitots
Video – 'Toddlers and Tiaras' Custody Battle: Racy Outfit Spurs Outrage from Maddy Verst's Father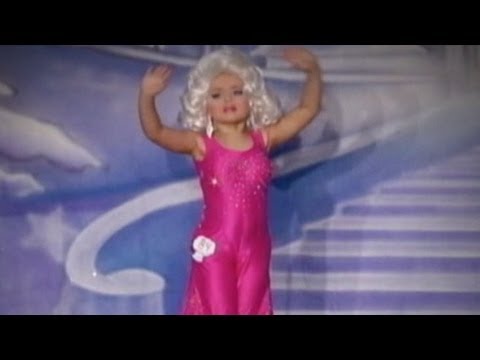 Fake Boobs at Age 4? 'Toddlers and Tiaras' – Tot Channels Idol Dolly Parton
From 2 years ago: Sep 1, 2011 12:37pm
Just when you thought "Toddlers and Tiaras" couldn't sink any lower, the TLC hit reality show that follows pint-sized beauty pageant contenders showed one 4-year-old contestant donning fake boobs and a padded bottom to emulate her idol Dolly Parton.
Wearing a hot pink cat suit padded to produce an hourglass silhouette and a peroxide blonde bouffant wig, little Maddy Jackson was transformed into a smaller version of curvy country icon Parton.
Her mother Lindsay Jackson defended her daughter's "enhancements" Wednesday on "Today."
"To some people, it's over the top, to us it's just what happens. … It's just normal. When she wears the fake boobs and the fake butt, it's just like extra bonus," she said.
In a clip from the show Maddy is seen getting ready with stylist Michael Booth. When Booth asks her, "Do you like the boobies in your outfit," Maddy replies yes. Booth does not.
He tells her, "I think you're cute and you would be just as cute without those, don't you?"
"I wasn't a big fan of the outfit with the boobs in it. She's very young, but hopefully the judges will perceive it in good taste," Booth says later.
Even her pint-sized competitors were unsure of what to make of Maddy's outfit. When another girl points to her chest and says, "What's that," Maddy wraps her arms around her fake bust.
Mom comes to the rescue and says, "Tell her you're Dolly Parton."
When it came time to perform on stage, Maddy channeled her idol, with her hands on her hips, she wiggled her bottom.
One judge said that she and her fellow judges thought it was cute that Maddy came dressed as Parton. "She put a little stuffing in and looked the part," she said.
What do you think?
Toddlers & Tiaras' mom could lose custody of daughter because she puts her in pageants
Published August 17, 2012
FoxNews.com
Last year, pint-sized beauty queen Madisyn "Maddy" Verst sparked outrage when she appeared on TLC's hit reality show "Toddlers & Tiaras" prancing around in a sparkly Dolly Parton outfit complete with padded breasts and backside.
The then five-year-old's saucy shake and shimmy landed her on the cover People magazine, with the headline asking, "Gone Too Far?"
That question could be answered Friday, August 17 at 1pm EST when a court hearing is scheduled in Campbell County, Kentucky to decide who will be granted custody of Maddy, her mother, Lindsay Jackson, or father, Bill Verst, who has petitioned the court for full custody.
"I've done nothing wrong, by way of being a mother, I'm a great mother," Jackson told FOXNews.com
 exclusively. "Because I participate in pageants with my daughter is not a reason to take my child from me."
Jackson claims that her ex-husband is using Maddy's participation in child beauty pageants as a reason for the court to award him full custody.
"Pageants have never been challenged, they're not illegal," said Jackson. "I'm not doing anything illegal with my kid."
I shouldn't be at risk of losing my child simply because she participates in a hobby that some people don't like
– Lindsay Jackson
However, in documents obtained by FoxNews.com, a psychologist appointed by the court recommends the parents "maintain a temporary joint custodial arrangement, with Bill as primary residential custodian."
In coming to the recommendation, the psychologist writes over 3,000 words condemning Maddy's participation in child beauty pageants, specifically citing her Dolly Parton number on "Toddlers & Tiaras" and photographs of Maddy dressed as "sexy police officer."
"Obviously, if I had know that this Dolly thing was going to be an issue, I wouldn't have done it, especially on national TV," said Jackson. "I never intended for it to be a negative costume – it was costume designed to represent our state. Dolly's from Tennessee, so that's what I did. As far as the police outfit goes, it's nothing more than a pair of shorts and a shirt that says, 'Bad cop, no donut' on the back. You can buy it for retail as a Halloween costume – and it's more revealing than what Madisyn was wearing. That outfit was never intended on being sexualized. (The court-appointed psychologist) thinks it is, but that's a matter of opinion."
The court-appointed psychologist is not alone in believing Jackson is contributing to the sexualization of her daughter.
"The whole pageant mentality concerns me – especially for very young children," Dr. Jenn Berman, a Beverly Hills-based psychotherapist and host of VH1's upcoming season of "Couples Therapy," told FoxNews.com
. "Giving children the idea that their value is in looking pretty or being sexualized is a very scary message to give kids, especially at such a young age. I can definitely understand why a court-appointed psychologist would be concerned."
But Jackson believes that because of her ex-husband's connections, the judge, and the court-appointed psychologist, are biased against her.
"We're in a very, very small town and his family is very, very political and very, very well-known and very, very wealthy, they're very involved in the court system and everything else," said Jackson. "I'm fighting a losing battle in a county because of who his family is and how much money they have. I shouldn't be in this court to begin with, it should have been moved to another court so it would be unbiased."
One legal expert says Jackson will have an uphill battle in her case.
"Nine times out of ten, judges will use the (court-ordered psychologist's) report verbatim," Beverly Hills-based attorney Evan T. Sussman told FOXNews.com
. "If a psychologist is appointed as an expert on a case, they're a neutral expert and the reports are very persuasive."
Jackson fears that the court will award her ex-husband custody of Maddy, despite Verst having a lengthy record that includes alcohol and drug-related arrests.
"He does not pay child support," alleged Jackson of her ex-husband. "He's been ordered to pay $500 a year for school stuff, and he has not paid that. Up until August of this last year, which is when 'Toddlers & Tiaras' came out, he never challenged the premise of pageants at all. But when 'Toddlers & Tiaras' came out, somebody else gave him the idea to say that I was sexualizing her, and he decided to run with it."
Verst's attorney had no comment when reached by FoxNews.com. A representative for the Campbell County Family Court in Kentucky declined comment, telling FoxNews.com
, "We can't comment on a case that is in open litigation right now."
Jackson is concerned that a ruling against her could set a precedent.
"If (the judge decides) that Maddy needs to live with her dad because she does pageants with me, then that opens the door for any parent to challenge anybody on activity that a kid does, period," declared Jackson. "We could really open up Pandora's Box to set a precedent all over the world. What if years ago Gabby Douglas' father said, 'She's not going to be a gymnast. She's not going to move away from home and practice gymnastics because I won't allow it,' and he and Gabby's mother got into a fight? We wouldn't have gold medal winners, we wouldn't have Miss America, we wouldn't have Miss USA."
Sussman noted that if Jackson loses custody of Maddy due to her participation in child beauty pageants, it could effect decisions in future court cases across the United States. "It certainly could be persuasive," said the family law attorney. "It's not binding, but it certainly could be persuasive."
"I think it's very eye-opening and I think it will probably send waves through the pageant world," Dr. Berman said of the potential outcome of the court case. "I'm sure that there will be a lot of parents who will be very worried for what this means for their kid and their relationship with their kid."
In any case, Jackson remains defiant in her defense of child beauty pageants.
"While some people may or may not agree with pageants–it's not illegal," said Jackson. "I shouldn't be at risk of losing my child simply because she participates in a hobby that some people don't like."
↓↓↓↓↓↓↓↓↓↓↓↓↓↓↓↓↓↓↓↓↓↓↓↓↓↓↓↓
PLEASE SCROLL DOWN TO
"FILED UNDER"
CLICK ON ANY OF THOSE TOPICS TO TAKE YOU TO SIMILAR POSTINGS
Posted by Donna Calvin — Tuesday, August 21, 2012
Please share this Watchwoman post on Facebook, Linkedin, Google+1, Twitter to all your friends.
Click "Like", Share, and Leave Comments.
Visit Word Warriorette, a free Yahoo Group, and subscribe to be notified (one email a day) of new posts on Watchwoman.
http://groups.yahoo.com/group/WordWarriorette/
DISCLAIMER: Beliefnet puts paid advertisements on "Watchwoman on the Wall" blog site including some that would never be approved of by the King James Bible, Pastor Ernie Sanders of Doers of the Word Church, What's Right-What's Left Radio Ministry, the Voice of the Christian Resistance, Geauga County Right to Life and Donna Calvin.  We at www.WRWL.org do not condone, endorse, adhere to, practice or believe in many of the topics and some of what other bloggers promote or their religions at Beliefnet.  However, Mrs. Calvin has no control of what Beliefnet displays.   She blogs at Beliefnet because she is in the missionary field ministering to true believers posting articles and commentaries informing pro-life, conservative Christians of recent anti-Christian acts and hostile legislation to God's Agenda and His Will for the world.  Hopefully, unbelievers will read these along with the salvation message of Jesus Christ as written in the Gospel of John, Chapter 3, according to the King James Bible, and be saved.  A missionary must go into the unbelievers' territory to reach them.  Her mission is to Proclaim Warning to a Nation that has forgotten their Lord and Savior Jesus Christ, the only Truth, the Life, and the only Way to the One God the Father. (08/18/12)
BEST OF THE BEST ON WATCHWOMAN
"Inspirational. Do you know for sure?"
http://blog.beliefnet.com/watchwomanonthewall/?p=4928
~†~