WATCHWOMAN WARNING: Please see the other post I made today: Two Very Bad Rulings by Indiana and U.S. Supreme Court that Could Abolish 4th Amendment ▬ Donna Calvin
Roger Hedgecock reports:
Jose Guerena, a former (2002-2006) U.S. Marine, survived two combat tours in Iraq to return to his native Tucson, Az., to start a family.
On May 5, Jose was shot 60 times and killed in his home in front of his wife and their 4-year-old son by five armed men who broke into his home and only later identified themselves as a sheriffs' SWAT unit serving a warrant for drugs. No drugs were found. The Guerenas had no criminal record.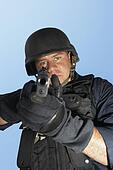 Around 9 a.m., Vanessa Guerena had seen an armed man pointing his rifle at her through the window of her son's bedroom. She yelled "Don't shoot, I have a baby."
The Guerenas live in a neighborhood known for home invasion. Vanessa yelled to awaken her husband who had just gone to sleep after working a 12-hour night shift at the Asarco copper mine. Startled awake, Jose grabbed his AR-15, told his wife to hide with their son in the closet and ran to confront the men crashing through his front door.
The SWAT team fired 71 shots in seven seconds. Deputies claimed that Guerena had fired first, then retracted that when they admitted that Guerena's rifle was on safety and had not been fired.
Read the rest of this deplorable story at World Net Daily: Iraq vet killed by regime at home