For the past few years, some Christians who attended the Arab festival in Dearborn, Michigan, have encountered vicious verbal abuse, in at least one case a physical assault, and some of the Christians have even been arrested! The good news is, the arrests have been thrown out.
Now, in the shocking video below, a Muslim mob vents its anti-Christian rage in a modern version of stoning. They throw eggs, water bottles, and other projectiles at a small group of Christians holding signs at this public event. In effect, the Muslim mob wants to make this public event a "Muslim only" event—a version of the "no-go zones" prevalent in France.
The police do virtually nothing to restrain the Muslim assailants. In fact, near the end of the video you'll see the police threatening the Christians with disorderly conduct! The police position is that the Christians are endangering public safety by saying things that are enraging the Muslim mob.
The message is clear—it's not the violence that endangers public safety, it's free speech that the mob wants to silence that endangers public safety.
Similar Muslim mob violence has occurred in Europe and the UK.
Muslims welcome Christians to Dearborn, Michigan with rocks, bottles, crates, eggs and more, while police turn a blind eye time after time. Watch as the "religion of peace" introduces you to the next generation of Islam in America.
(click large center arrow)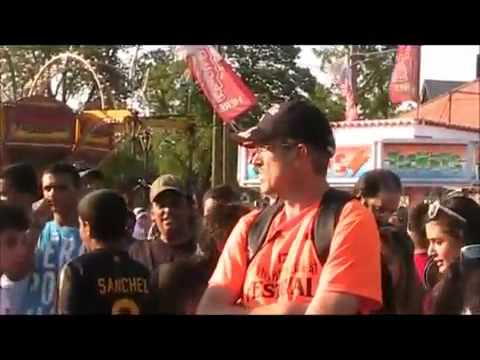 In addition to the video above, you can see what happened during the full 66 minutes by viewing (click large center arrow)

LINKS TO ISLAM IS DANGEROUS AND THE SOLUTION (IF HYPERLINKS DO NOT WORK, COPY AND PASTE)

Islam is the most dangerous religion known to man (Fox News Video) Part 1 of 4
http://blog.beliefnet.com/watchwomanonthewall/?p=17157
Police Allow Muslims to Stone and Pelt Christians at Arab Festival Dearborn Part 2 of 4
http://blog.beliefnet.com/watchwomanonthewall/?p=17147
Speaking Of Radical Islamists…Part 3 of 4
http://blog.beliefnet.com/watchwomanonthewall/?p=17167
The Solution to Islam and All of it's Dangers, A Spiritual Earthquake – Part 4 of 4
http://blog.beliefnet.com/watchwomanonthewall/?p=17217
↓↓↓↓↓↓↓↓↓↓↓↓↓↓↓↓↓↓↓↓↓↓↓↓↓↓↓↓
PLEASE SCROLL DOWN TO
"FILED UNDER"
CLICK ON ANY OF THOSE TOPICS TO TAKE YOU TO SIMILAR POSTINGS
~†~
Posted by Donna Calvin — Friday, July 06, 2012
~†~
Please share this Watchwoman post on your Facebook page, Linkedin, Google+1, Twitter to all your friends.
Please click "Like", Share, and Leave Comments. 
Visit Word Warriorette, a free Yahoo Group, and subscribe to be notified (one email a day)
of new posts on Watchwoman.
http://groups.yahoo.com/group/WordWarriorette/
DISCLAIMER: Beliefnet puts paid advertisements on "Watchwoman on the Wall" blog site including some that would never be approved of by the King James Bible, Pastor Ernie Sanders of Doers of the Word Church, What's Right-What's Left Radio Ministry, the Voice of the Christian Resistance, Geauga County Right to Life and Donna Calvin.  We at www.WRWL.org do not condone, endorse, adhere to, practice or believe in many of the topics and some of what other bloggers promote or their religions at Beliefnet.  However, Mrs. Calvin has no control of what Beliefnet displays.   She blogs at Beliefnet because she is in the missionary field ministering to true believers posting articles and commentaries informing pro-life, conservative Christians of recent anti-Christian acts and hostile legislation to God's Agenda and His Will for the world.  Hopefully, unbelievers will read these along with the salvation message of Jesus Christ as written in the Gospel of John, Chapter 3, according to the King James Bible, and be saved.  A missionary must go into the unbelievers' territory to reach them.  Her mission is to Proclaim Warning to a Nation that has forgotten their Lord and Savior Jesus Christ, the only Truth, the Life, and the only Way to the One God the Father.
Read more: http://blog.beliefnet.com/watchwomanonthewall/?p=4928
~†~
~END~