"WITH GOD ALL THINGS ARE POSSIBLE" 
Ohio State Motto 
Two Pro-Life Bills That Need Your Attention!Call your State Senators and urge them to support Ohio's Heartbeat Bill, H.B. 125. The legislation passed the Ohio House in June by a margin of 54-44. Senate hearings were held in December in the Senate Health, Human Services and Aging Committee, chaired by Senator Scott Oelslager (District 29). OCA is urging support for H.B. 125, Ohio's Heartbeat Bill. This legislation states that when a heartbeat is detected, abortion will be prohibited. CALL YOUR SENATOR TODAY!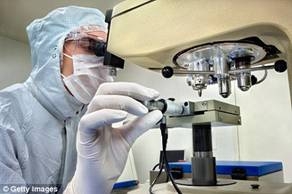 Call Your State Representatives and Urge Them to Support H.B. 171, Ohio's Ban on Human Cloning and Animal-Human Hybrid.
The Ohio Christian Alliance believes that no human life should begin and end as the subject of an experiment. We attest that a process that knowingly encourages human life to be created, manipulated for research, and ultimately destroyed is immoral and should be prohibited. And all who believe that human life, including nescent human life, is a unique and precious gift from our Creator, have an obligation to support efforts to ban it. It is repugnant to us as people with a pro-life conscience that our tax dollars are being used to fund research laboratories that conduct this type of experimentation. H.B. 171 addresses the need to restrict this type of research and sends a clear message to the bioscience laboratories working in Ohio that this type of scientific experimentation that creates and destroys human embryo life will not be permitted in Ohio.
Animal-human hybrid experimentation is currently being conducted in England, which many in the international medical community now consider to be a rogue medical state. Some in the scientific community have begun experimentation using DNA from animals and humans to be intermixed in scientific laboratory experimentation to create animal-human hybrids without regard to the moral and ethical questions surrounding this type of scientific research experimentation.
It has been reported the U.S. laboratories are currently conducting similar research experimentation. A Reuters article from February 2009 entitled, "Animal-Human Clones Don't Work, U.S. Company Finds", stated "Researchers who tried to use mouse, cow, and rabbit eggs to make human clones said the effort failed to produce workable embryos." What the research from this article proves is that this type of experimentation research is already being conducted in the United States. CALL YOUR STATE REPRESENTATIVES TODAY AND URGE THEM TO SUPPORT OHIO'S BAN ON HUMAN CLONING, H.B. 171.
---
  Ohio Christian Alliance is a non-partisan organization dedicated to promoting Judeo-Christian values in American government. Ohio Christian Alliance does not endorse any particular candidate or political party. OCA provides educational materials, including voter guides and scorecards.s.s.