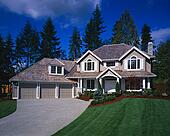 Home Sweet Home, or at least it used to be, until I couldn't pay the mortgage payments and I couldn't sell it because I owed more than I could get (underwater mortgage) so it was foreclosed by the bank.
"""""""""""""""
WHAT YOU'RE HEARING FROM THE MEDIA AND GOVERNMENT
Housing starts jumped 9.3% in November, according to the Commerce Department, to the highest level since April 2010.
The year-over-year increase works out to 24.3%, driven mostly by construction of apartment complexes for all those people who can no longer afford to be "owners" of underwater properties.
Permits, an indicator of future trends, rose 5.7% month over month, and 20.7% year over year.
"""""""""""""""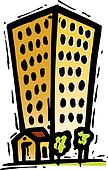 This is where my family lives now in my one-room apartment. Our brand-new living quarters, and we're helping to boost the stats about the housing starts, but that brings me no joy.  Makes the government happy though. They brag it up!
""""""""""""""""""
HERE'S HOW THEY LIE!
WASHINGTON (MarketWatch) — New construction of U.S. houses rose 9.3% in November to a seasonally adjusted annual rate of 685,000 – the highest annual rate since April 2010 — with multi-family activity leading growth, according to Commerce Department data released Tuesday. Starts for multi-family residences rose 32.2% in November to a rate of 230,000, the highest level since September 2008. Meanwhile, starts of new single-family homes rose 2.3% to an annual rate of 447,000. Starts in October were revised down to 627,000 from a prior estimate of 628,000. Economists polled by MarketWatch had expected an annual rate of 635,000 for starts in November. Building permits, a leading indicator of housing construction, rose 5.7% to a seasonally adjusted annual rate of 681,000, the highest annual rate since March 2010.

Read More: Housing starts highest since April 2010
http://www.marketwatch.com/story/nov-housing-starts-up-93-to-685000-annual-rate-2011-12-20-830180?siteid=bnbh