Heidi, an over-weight, young cross-eyed opossum, is shaping up to be the most popular furry critter in Germany since Knut the celebrity polar bear.
Tooooo cute!  Sooooooo sweet!   Watch this adorable little furball and be charmed.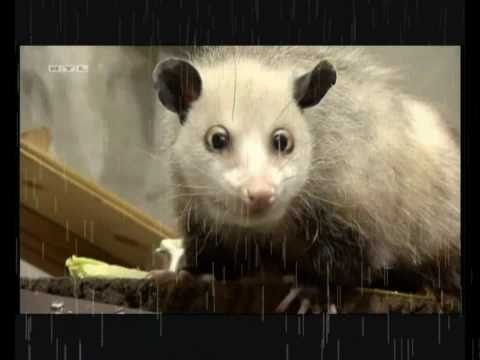 The reason for Heidi's crossed eyes is unclear, but zoo officials speculate that it might be because of fat deposits behind her eyes, caused by a bad diet early in life. The eyes might look off, but they cause the animal no pain, and don't affect her ability to get around, according to the zoo. She is, aside from her looks, a normal opossum.
She won't be visible to the public until July, but a cross-eyed opossum has turned into Germany's new media darling. Two-and-a-half-year-old Heidi has even inspired a YouTube hit, her own high-end stuffed animal, and has more than 49,000 friends on Facebook, and counting.
"It really is surprising how famous and loved she is — I guess it has to do with being cross-eyed," said Dr. Helmut Schache, of the toy manufacturer Kösen, whose hand-made stuffed Heidis will be available for order in two weeks.
The Heidi rage started in mid-December, when journalists from the German tabloid Bild went to the zoo in the eastern city of Leipzig to photograph animals that will be housed in the zoo's upcoming "Gondwanaland," a tropical center based on the regions of the ancient continent.
Read more: http://goodnewsstories.org/cross-eyed-oppossum/