Watchwoman: Ohio Christian Alliance is a very reliable source and I strongly urge you to contact them and get Bulletin Inserts to help educate your church members in Ohio.  ▬  Donna Calvin

"WITH GOD ALL THINGS ARE POSSIBLE" 
Ohio State Motto 
Proposed New Ohio House and Senate District MapsThe Apportionment Board's proposed General Assembly maps were made available to the public on Friday.  The redraw of Ohio's districts is in response to the 2010 Census in which Ohio lost 2 Congressional seats.  Click here to view the proposed maps.  – Ohio House map. – Ohio Senate map. – Congressional map.The Ohio Constitution requires the Apportionment Board which consists of the Governor, Secretary of State, State Auditor, and two legislative members, to update General Assembly districts after every decennial census count.  The overall plan is currently available on the Secretary of State's Reshape Ohio website. Ohio Christian Alliance will provide an educational bulletin insert for the November 8th election on state ballot issues.  Request yours today for your church or community group by emailing us at contact@ohioca.org   Please include your name, address, and the name of your church or community group when requesting your bulletin insert.  A PDF version will be available on the OCA website by October 10th.  
LEGISLATIVE UPDATE
Ohio's Founding of America Documents Bill which passed the Ohio Senate in a rare unanimous vote on July 13th, has been referred to the House Education Committee, chaired by State Representative Gerald Stebelton.  The bill's sponsor, State Senator Larry Obhof, presented sponsor testimony on Wednesday, September 21st.  S.B. 165 is currently in the Ohio House Education Committee.Call your state representative today and urge their support for The Founding of America Documents Bill, S.B. 165.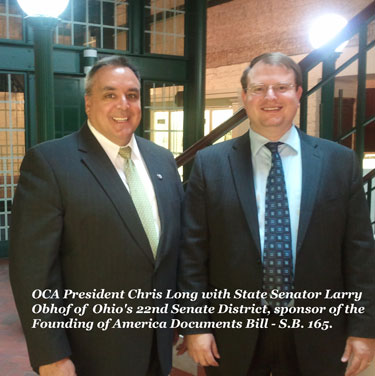 The Founding of America Documents Bill will require Ohio's high school students to be instructed in our Founding Documents, namely The Declaration of Independence, The U.S. Constitution with an emphasis on The Bill of Rights, The Ohio Constitution, The Northwest Ordinance, and The Federalist Papers.  S.B. 165 has been a legislative goal of OCA in the 129th General Assembly.
---
  Ohio Christian Alliance is a non-partisan organization dedicated to promoting Judeo-Christian values in American government. Ohio Christian Alliance does not endorse any particular candidate or political party. OCA provides educational materials, including voter guides and scorecards.s.s.