Watchwoman: Don't ever count any Democrat out for the count, including Obama in 2012.  Polls and people's opinions are capricious as the weather.  They could turn around and be calling Obama the Messiah and The Chosen One again overnight.  Additionally, who hasn't heard of the Chicago Political Machine meaning that in Chicago any Democrat gets voted in.  Who hasn't heard of the saying, "It's not the votes that count, but who counts the votes!" The item below points out another dereliction of duty by the mainstream media and press to ignore the story about an NAACP leader who is in prison for voter fraud. Moreover, I'm sure, unless you read a column like this, you might never have heard about the massive voter intimidation by the Black Panthers in Philadelphia in black precincts two years ago.  Let me say it again, "Don't count any Democrat out for the count."  With the emphasis on the word "count".   I've included two videos, one from Fox News from 2 years ago — see below — and also the video shot that lead to the police and Fox News showing up.  BTW, Eric Holder, Obama's Attorney General, refuses to prosecute any of the Black Panthers involved in the voter intimidation seen in the video below, a violation of election rules.  ▬  Donna Calvin
Published: 1:14 AM 07/29/2011
While NAACP President Benjamin Jealous lashed out at new state laws requiring photo ID for voting, an NAACP executive sits in prison, sentenced for carrying out a massive voter fraud scheme.
In a story ignored by the national media, in April a Tunica County, Miss., jury convicted NAACP official Lessadolla Sowers on 10 counts of fraudulently casting absentee ballots. Sowers is identified on an NAACP website as a member of the Tunica County NAACP Executive Committee.
Sowers was found guilty of voting in the names of Carrie Collins, Walter Howard, Sheena Shelton, Alberta Pickett, Draper Cotton and Eddie Davis. She was also convicted of voting in the names of four dead persons: James L. Young, Dora Price, Dorothy Harris, and David Ross.
This wasn't Sowers's first run-in with the law. Sowers previously had her probation revoked for disturbing the peace at a junior high school library, the Commercial Appeal of Memphis reported in 1990. During a hearing at that time, Sowers played the race card. She claimed to be the victim of "an attempt by powerful whites to silence" her, the newspaper reported. It didn't work. She was ordered back to prison to complete the remaining two years of a three-year sentence she received for check forgery.
The NAACP has had other problems with voter fraud. The NAACP National Voter Fund registered a dead man to vote in Lake County, Ohio, in 2004. That same year, out of 325 voter registration cards filed by the NAACP in Cleveland, 48 were flagged as fraudulent.
But the NAACP's voter fraud record doesn't approach that of ACORN, the Association of Community Organizers for Reform Now. At least 54 individuals employed by or associated with ACORN have been convicted of voter fraud.
Read more: http://dailycaller.com/2011/07/29/mississippi-naacp-leader-sent-to-prison-for-10-counts-of-voter-fraud/#ixzz1TVK69RtX
See the Fox News Video: BLACK PANTHERS ATTACK VOTERS IN PHILLY VOTING PLACE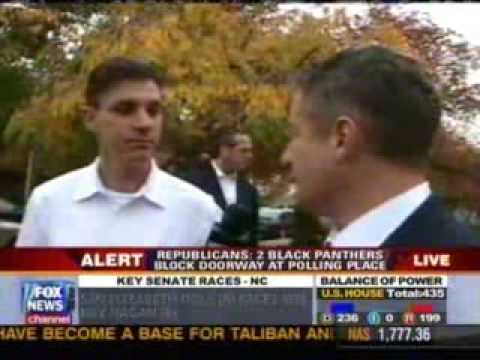 2008 elections – Philadelphia – Black Panthers "stand guard" at voting location.
See the Video that caused the man from the University of Pennsylvania to call the police and why Fox News showed up.
RACIST GROUP INTIMIDATES VOTERS

Two Black Panthers with Night Sticks blocked the doors and threatened White Voters at a Poll in Philly. One is actually a FOKEN POLL WATCHER and could not be removed. Both were dressed in Black Panther Garb and one remains at the polling place. They made Racist Statements Towards Voters to Scare them. No one is hurt