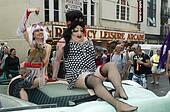 By Gary Bauer
President Obama once again declared June to be "Lesbian, Gay, Bisexual and Transgender Pride Month." How will you celebrate? You'll have some options — the president also declared June to be "National Caribbean-American Heritage Month," "African-American Music Appreciation Month" and "Great Outdoors Month."
It was clear which constituency is most important to the president. He devoted only 354 words to his proclamation declaring June "National Caribbean-American Heritage Month." But Obama lavished the homosexual rights movement with 826 words of praise in his presidential proclamation.
Last week, Gallup released a survey which found that Americans, on average, believe that 25% of the population is gay. This is a media-driven delusion. The best estimate of the homosexual population based on demographic research is somewhere between 2% and 4%. Yet such a small number of radical activists seems to have the undivided attention of our political elites when it comes to "fundamentally transforming" society's most cherished values.
If you are interested in receiving Mr. Bauer's daily report by e-mail, visit SIGN UP FOR GARY BAUER'S "END OF DAY REPORT"
Source: http://www.ouramericanvalues.org/eod/
UPDATE:  SEE FOLLOW UP TO THIS ARTICLE:  Obama Most Pro-Homosexual President Ever–Appoints 190 to Government Positions
+†+
WHAT DOES GOD'S WORD SAY ABOUT LGBT?
Thou shalt not lie with mankind, as with womankind: it is abomination.  [Leviticus 18:22 KJV]
The woman shall not wear that which pertaineth unto a man, neither shall a man put on a woman's garment: for all that do so are abomination unto the LORD thy God.  [Deuteronomy 22:5 KJV]
He that justifieth the wicked, and he that condemneth the just, even they both are abomination to the LORD.  [Proverbs 17:15 KJV]
Were they ashamed when they had committed abomination? nay, they were not at all ashamed, neither could they blush: therefore they shall fall among them that fall: at the time that I visit them they shall be cast down, saith the LORD.  [Jeremiah 6:15 KJV]
And there shall in no wise enter into it any thing that defileth, neither whatsoever worketh abomination, or maketh a lie: but they which are written in the Lamb's book of life.  [Revelation 21:27 KJV]
Even as Sodom and Gomorrha, and the cities about them in like manner, giving themselves over to fornication, and going after strange flesh, are set forth for an example, suffering the vengeance of eternal fire.  [Jude 1:7 KJV]
REPENT AND BE SAVED!
For God so loved the world, that he gave his only begotten Son, that whosoever believeth in him should not perish, but have everlasting life.  [John 3:16 KJV]
I tell you, Nay: but, except ye repent, ye shall all likewise perish.  [Luke 13:3 KJV]
Repent ye therefore, and be converted, that your sins may be blotted out, when the times of refreshing shall come from the presence of the Lord;  [Acts 3:19 KJV]
Verily, verily, I say unto you, He that heareth my word, and believeth on him that sent me, hath everlasting life, and shall not come into condemnation; but is passed from death unto life.  [John 5:24 KJV]
And this is the will of him that sent me, that every one which seeth the Son, and believeth on him, may have everlasting life: and I will raise him up at the last day.  [John 6:40 KJV]
Repent therefore of this thy wickedness, and pray God, if perhaps the thought of thine heart may be forgiven thee.  [Acts 8:22 KJV]
But now being made free from sin, and become servants to God, ye have your fruit unto holiness, and the end everlasting life.  [Romans 6:22 KJV]
And with all deceivableness of unrighteousness in them that perish; because they received not the love of the truth, that they might be saved.  [2 Thessalonians 2:10 KJV]
For though I made you sorry with a letter, I do not repent, though I did repent: for I perceive that the same epistle hath made you sorry, though it were but for a season.  [2 Corinthians 7:8 KJV]
See also:
SODOMITE ACTIVISTS INVITED TO WH 'FLIP OFF' REAGAN (OBAMA'S FRIENDS)
http://blog.beliefnet.com/watchwomanonthewall/?p=16748
Obama Most Pro-Homosexual President Ever–Appoints 190 to Government Positions
http://blog.beliefnet.com/watchwomanonthewall/?p=2623
How Will You Celebrate LGBT Month?
http://blog.beliefnet.com/watchwomanonthewall/?p=2594