From: Operation Rescue
First Abortion Clinic Denied License Under New KS Law Is Expected to Close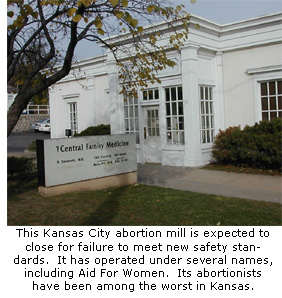 Kansas City, Kansas – An attorney for the Aid For Women abortion clinic in Kansas City has told reporters that AFW has been denied a license to do abortions under a new state law. The license denial was based on information offered by AFW in a written application. An inspection that had been scheduled for next week was cancelled.
"The AFW abortion mill employed among the worst of a number of disreputable abortionist in Kansas. We are not surprised to see that it is the first to be denied licensure," saidOperation Rescue President Troy Newman.
Meanwhile, Comprehensive Health of Planned Parenthood in Overland Park told reporters that their abortion clinic passed the two-day inspection conducted by the Kansas Department of Health and Environment (KDHE), and is expected to be issued an abortion license by July 1, 2011, when the new law takes full effect. The KDHE has not confirmed Planned Parenthood's announcement.
Planned Parenthood faces other serious legal problems, which include 107 criminal charges related to illegal late-term abortions. A hearing on that criminal case is slated for July 15.
"In light of Planned Parenthood's history of flouting the law, we have no reason to believe they will adhere to the new clinic safety standards," said Newman. "While they may receive initial licensing, these people have the attitude that they are above the law. It's only a matter of time before they disregard the clinic safety rules, too."
Center for Women's Health, the third abortion clinic in Kansas, is operated by the father-daughter abortionist team of Herbert Hodes and Tracey Nauser. When asked about the new law, Hodes simply responded "We're doomed."
Hodes indicated that if his clinic is denied licensure, he will keep it open and continue to offer non-abortion services. An inspection is scheduled for Wednesday.
In Wichita, abortionist Mila Means told a gathering Friday evening that without money, she will not be able to open a new abortion clinic in Wichita. She is seeking to raise $1 million even though she admits she is "not good at making business decisions for financial reasons" and has already run one medical practice into a bankruptcy that hurled her into massive debt. Means has also faced discipline from the Board of Healing Arts and has not yet completed her abortion training.
"Squalid conditions and horrific abuses have been documented at abortion mills in this state, fully justifying the new standards. For decades Kansas has been like the lawless Wild West for abortionists and now they are angry they can't keep it that way. The new administration is finally working to enforce the law instead of protecting abortionist from accountability under the law," said Newman. "That is a massive change for the better."
________________________________

About Operation Rescue®
Operation Rescue is one of the leading pro-life Christian activist organizations in the nation and has become a strong voice for the pro-life movement in America. Operation Rescue is now headquartered in a former abortion clinic that it bought and closed in 2006.  From there, Operation Rescue launches its innovative new strategies across the nation, exposing and closing abortion clinics through peaceful, legal means. Its activities are on the cutting edge of the abortion issue, taking direct action to stop abortion and ultimately restore legal personhood to the pre-born in obedience to biblical mandates. Click here to support Operation Rescue.
________________________________
Web site:
www.operationrescue.org
E-mail: info@operationrescue.org