By Tim Dunkin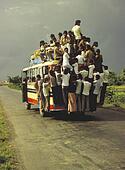 Ask most conservatives what they think about public transportation, and they'd probably tell you that they don't like it. And it's not just because of the smell and the gum stuck to the seats. Most of us conservatives, deep down inside, at least in some subconscious way, feel that mass public transportation is just a little bit communist. After all, we conservatives like our freedom. That's probably a lot of the reason why we're in love with the automobile….
Click LIKE above!
Please share this with Friends – Please Forward.  Just Click little envelope below
Leave a Comment, click the orange letters below.