Mark Harrington, Executive Director for Created Equal, recalls a message of Dr. Martin Luther King, Jr. at a rally in support of Ohio's heartbeat bill (HB 125): "'Wait' almost always means 'Never.'"
Columbus, OH – May 16, 2011 – THE TIME IS NOW!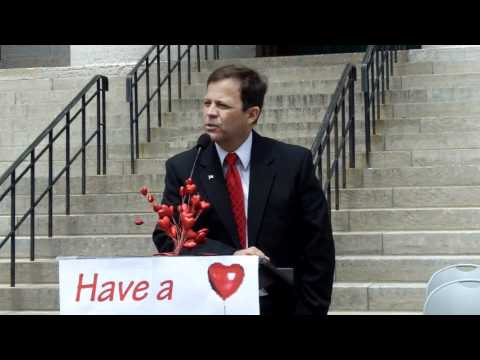 Dr. King said, "We know through painful experience that freedom is never voluntarily given by the oppressor; it must be demanded by the oppressed. Frankly, I have yet to engage in a direct-action campaign that was "well timed"  . . .  For years now I have heard the word "Wait!"  . . . This "Wait" has almost always meant "Never."'
The word "Wait" rings in the ear of every preborn baby and it almost always means "Never."  The time is now to protect the children again.
URGENT! URGENT! URGENT! If you live in Ohio, support the Heartbeat Bill (HB 125).
If you don't live in Ohio, click Heartbeat Bill (HB 125) and start calling and contacting your own state legislators to get similar legislation in your state!
PLEASE CLICK TO HELP GET THIS BILL PASSED IN OHIO!  Heartbeat Bill (HB 125)
Created Equal PO Box 360502 Columbus, OH 43236