FLASH!!!!  UPDATE!!!!  JUST IN!!!!!!
2:44 PM, May 11, 2011
60 LAWMAKERS PROTESTED THAT NAVY CHAPLAINS COULD "MARRY" HOMOSEXUALS IN NAVY CHAPELS AND THIS EVILNESS HAS BEEN HALTED (FOR NOW)!
There can be no marriage unless it's ordained by God and God has already ruled that a marraige is between one man and one woman.
GOD'S WORD DECLARES:
Therefore shall a man leave his father and his mother, and shall cleave unto his wife: and they shall be one flesh. (Genesis 2:24 KJV)
And Adam called his wife's name Eve; because she was the mother of all living. (Genesis 3:20 KJV)      (Eve, the wife, was definitely a woman.  She gave birth!)
Let the deacons be the husbands of one wife, ruling their children and their own houses well. (1 Timothy 3:12 KJV)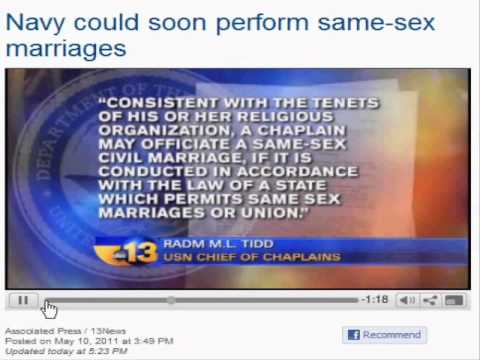 Navy halts move to allow gay unions by chaplains
May 11, 12:32 AM (ET)
By LOLITA C. BALDOR
WASHINGTON (AP) – Under pressure from more than five dozen House lawmakers, the Navy late Tuesday abruptly reversed its decision that would have allowed chaplains to perform same-sex unions if the Pentagon decides to recognize openly gay military service later this year.
Read the full article at: http://apnews.myway.com/article/20110511/D9N512K00.html