'Double-Dip' Housing Plunge Threatens Economy
Tuesday, 31 May 2011 12:21 PM
By Newsmax Wires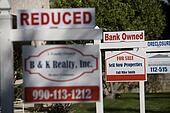 Home prices in 20 U.S. cities dropped in March to the lowest level since 2003, showing housing remains mired in a slump and is threatening to hurt the nation's economic recovery.
The S&P/Case-Shiller index of property values in 20 cities fell 3.6 percent from March 2010, the biggest year-over-year decline since November 2009, the group said today in New York. In the first quarter, housing prices dropped 4.2 percent, a new low that is likely to threaten the economic recovery.
All of this data comes days after two disappointing economic reports. Last week, worsening gross domestic product and initial unemployment claims numbers topped what economists had expected. And the slumping housing data arrives just days before the Labor Department releases its monthly report on jobs.
The bleak data is increasingly worrisome for analysts, who say economic growth should have picked up more by now. Higher food and commodity prices are cutting into economic output by dampening consumer spending.
More and more forecasters, meanwhile, are slashing their second-quarter growth predictions, The Wall Street Journal reports.
Read more on Newsmax.com: 'Double-Dip' Housing Plunge Threatens Economy
Important: Do You Support Pres. Obama's Re-Election? Vote Here Now!